Nursing: Are we facing a trade-off?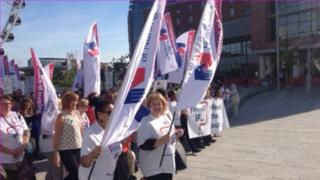 Nurses are not happy. In fact, Royal College of Nursing general secretary Peter Carter says he has "never seen them so angry".
This much was plain before their annual conference even got under way in Liverpool this week.
At 08:15 on Monday, more than 200 gathered around the Ferris wheel on the city's redeveloped Albert Dock.
As they marched the 100m to the conference centre on the banks of the Mersey the message was clear. "What do we want? More pay. When do we want it? Now," they chanted.
One of the protesters was chemotherapy nurse Laura Falconer. She says the profession is at the "end of its tether".
The source of their anger is obvious. In March, the government in England announced it would not grant an across-the-board 1% pay rise as recommended by the independent pay review body.
Instead, ministers have said they will only give that to those who do not get progression-in-the-job rises, which half of nurses get and are worth more than 3% on average.
The common complaint in Liverpool is that the government is intent on running down the profession.
But is that really true? After all, the government line is that it is investing in the profession.
As always the reality is not black and white. When the coalition came to power, the nurse workforce started shrinking.
More nurses
The numbers of nurses, midwives and health visitors (in terms of full-time equivalents) fell by more than 3,000 between February 2010 and February 2012 to just over 308,000.
But the trend has now been reversed as the public inquiry into the Stafford Hospital scandal has made clear that nurse-to-patient ratios are a priority.
The latest data for February 2014 shows that there are more than 314,000 nurses employed - meaning the numbers lost in the two years previously have been replaced twice over.
Hospitals are now expected to routinely monitor staffing levels on wards and act when they fall below what is considered safe.
But that does not mean the NHS now has enough nurses.
According to the latest Nurse Supply and Demand Survey of NHS trusts, which is carried out by NHS Employers and Health Education England, 10% of posts are vacant.
This is not because the NHS doesn't want to recruit. Most trusts are reporting they do. Instead, they are struggling to find the nurses they want.
Nurse pay and roles
Band
Pay range
Typical role
5
£21,478-£27,901
Entry level nurse or midwife
6
£25,783 - £34,530
Staff nurse, such as theatre nurse
7
£30,764 - £40,558
Senior nurse, such as ward sister / team leader
8
£39,239 - £81,618
Nurse consultant or matron
That raises the question: why?
What is noticeable about the hardest-to-fill vacancies is that they are in arguably the most high-pressure environments in hospital: A&E, intensive care and neonates.
But these posts are not being offered with high salaries.
Instead, what the survey shows, is that they are band five and six positions - the two lowest grades for nurses. Salaries for these posts range between the starting salary of just over £21,000 to £34,500, compared with up to £81,000 that band eights can earn.
RCN head of policy Howard Catton believes this is a sign of the NHS trying to downgrade nurses: "They want to get highly skilled nurses for less. Is that really fair?"
This theory is supported by research published by the RCN in March which showed the number of band eight nurses had fallen by 11% in three years, while band sevens by 4.5%.
If this is true, it marks a shift in emphasis. For the last decade, if not more, the trend has been to increase nurses' skills. They have taken on extra roles from prescribing to diagnosing. In effect, some became mini-doctors.
This was done with the aim of freeing up the real doctors to concentrate on the more specialised areas of care.
With money so tight, it has now perhaps become a trade-off: do we want more nurses or better paid ones?