Birthing pool infection risk warning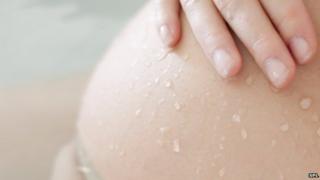 The NHS in England has advised women not to use certain home birthing pools after a baby had to go into intensive care for an infection believed to be linked to their use.
Samples taken from the heated birthing pool have confirmed the presence of legionella bacteria, which cause Legionnaires' disease.
Tests will establish if it is the same strain which infected the baby.
Public Health England says the temporary ban was precautionary.
The majority of birthing pools used at home are filled from domestic hot water systems at the time of labour - these birthing pools do not pose the same risk and are excluded from this alert.
The risk occurs with heated birthing pools filled in advance of labour and where the water temperature is kept constant by a heater and a pump.
This is the first reported case of Legionnaires' disease linked to a birthing pool in England, although two cases were reported internationally some years ago.
The heated pools from the supplier involved in this incident have been recalled.
Public Health England said it was aware that around ten companies in total supply these specific home birthing pools and each have somewhere between two and 14 which they loan out.
Midwives and every local authority in England are being contacted to see if they have any of these pools still in use.
Legionnaires' disease
a severe pneumonia caused by the Legionella bacteria
there are 350-400 cases a year reported in England and Wales, mainly in older adults
cases in children are extremely rare
the infection does not spread from person to person
people become infected with the bacteria by inhaling contaminated water droplets
Prof Nick Phin, Public Health England's head of Legionnaires' disease, said: "This is an extremely unusual situation, which we are taking very seriously.
"PHE and relevant local authorities are investigating the infection control measures required for this type of birthing pool and local authorities will be working with the small number of companies who supply these heated birthing pools for use at home."
Louise Silverton, director for midwifery at the Royal College of Midwives, said: "Women planning birth at home using a traditional pool that is filled when the woman is in labour or using a fixed pool in an NHS unit are not affected by this alert and should not be concerned. Birthing pools in hospitals are subject to stringent infection control procedures and monitoring. Home birthing pools filled during labour come with disposable liners and are only in place for a relatively short time period, reducing opportunity for bacterial growth.
"Any women with concerns about using home birthing pools should contact their midwife or local maternity unit."