NHS scan and test delays 'worrying'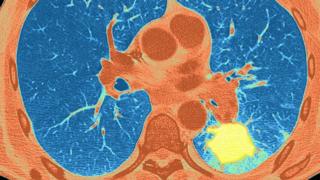 Health charities have called for urgent action to tackle delays in access to diagnostic tests in England.
The latest figures show that in April, nearly 17,000 patients had been waiting more than six weeks for scans and investigations - including for cancer.
NHS England says most patients are investigated promptly, despite a big rise in demand for tests.
The NHS constitution says no one should have to wait more than six weeks for a diagnostic test.
The number of such investigations has risen steeply in recent years in response to growing demand.
But the proportion of patients missing the deadline - including potentially some with cancer - has doubled in 12 months to more than 2%.
Labour's shadow health secretary, Andy Burnham, said: "Every day, yet more evidence emerges showing an NHS heading seriously downhill.
"Patients are waiting longer for crucial tests - causing stress and real anguish for worried families."
'Top priority'
Macmillan Cancer Support said the NHS was "under strain" and there was a danger of cancer being "overlooked".
Ciaran Devane, Macmillan's chief executive, said: "It is extremely worrying that the proportion of people who face delays in receiving vital tests which can diagnose cancer has doubled since this time last year, from 1.1% to 2.2%.
"Only two weeks ago we heard that more people are waiting longer to start treatment and now more people are waiting longer just to get diagnosed."
He added: "Each individual hospital has a responsibility to meet these targets, or they risk putting a patient's best chance of survival at risk.
"However, this government and the next also need to take responsibility. Macmillan Cancer Support is urging all political parties to make cancer a top priority at the upcoming general election."
NHS England says there were more than 50,000 additional tests carried out in April compared with the same time last year, and that most patients wait less than three weeks.
A spokeswoman said: "Timeliness of diagnosis and treatment is what patients expect and is essential to providing high quality care. The vast majority of patients get their tests promptly."