Target MPs over pay - nurse leader
By Nick Triggle
Health correspondent, BBC News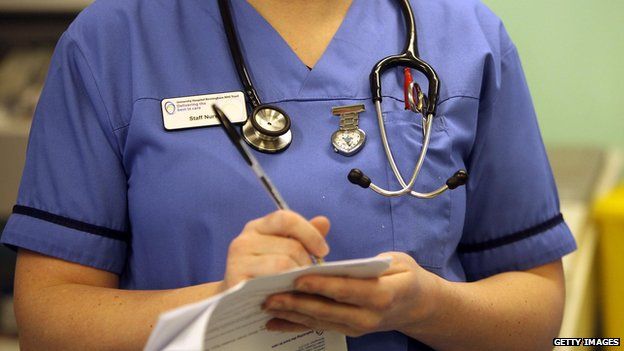 Nurses should target MPs in marginal seats to turn up the pressure over pay, the Royal College of Nursing says.
Ministers have blocked a recommendation for a 1% across-the-board rise for health staff in England.
General secretary Peter Carter urged nurses to resist the temptation to push for a strike.
Instead, he said with 1,000 nurses in each constituency they could make a difference between an MP being elected or not in tight seats.
Speaking at the union's annual conference, he said the decision in March to only give 1% to those who did not get that sum in progression-in-the-job increases (designed to reward professional development) was "ruthless".
These are given to half of all NHS staff and are worth over 3% on average. But the independent pay review body had recommended 1% be given to everyone.
Mr Carter compared this to the 11.5% pay rise the MPs got following a review of their pay.
Other health unions - Unison and Unite - have balloted their members about industrial action.
But Mr Carter told delegates at the start of the four-day conference in Liverpool that strike action would not be right as it would leave "patients in the lurch".
However, he added: "There are many MPs on all sides of the House of Commons that have small majorities, some just a few hundred, some even as low as 30 to 40 votes.
"There are about 1,000 nurses in each consistency and if we mobilise ourselves I know that many of those MPs will be looking over their shoulders and wondering if they'll be re-elected at the general election next year. Your vote can be the difference between returning to parliament or being out of a job.
"That's why now is the time to lobby them. To flush them out to say where they are standing on health workers' salaries."
Mr Carter said the anger in the profession was being fuelled by what appeared to be a growing pay bill for senior NHS managers.
Data obtained under the Freedom of Information Act by the RCN shows that the amount spent on executive directors, who sit on the boards of NHS trusts, has grown by an average of 6.1% in the last two years compared to the 1.6% extra nurses, health visitors and midwives have got, the RCN said.
However, the executive director figures also include termination payments so it could be a sign of the NHS getting rid of senior staff.
A spokeswoman for the Department of Health said the figures on executive pay should be "treated with caution" as other data suggested there had been no increase.
She added: "We have an available budget of nearly £1bn for pay increases. We have offered to look at any proposal the unions make on how to use this money.
"However, they have not put forward any proposals to help the lowest paid. Our door remains open if they wish to reconsider their position."
In contrast to the situation in England, the Scottish Government has accepted the 1% pay rise recommendation. Talks are on-going in Wales and Northern Ireland.
Related Internet Links
The BBC is not responsible for the content of external sites.