Hospital feed death baby is named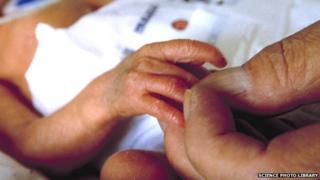 A nine-day old baby who died after contracting a bacterial infection from suspected contaminated hospital feed has been named as Yousef Al-Kharboush.
His parents are set to meet the coroner, hospital chiefs and representatives from ITH Pharma, which supplied the feed, later on Friday.
They will discuss whether a post-mortem into the death of Yousef, from London Bridge, is needed.
Eighteen babies, many premature, have shown signs of blood poisoning.
The cases are spread across nine hospitals in England.
Public Health England and the Medicines and Healthcare products Regulatory Agency (MHRA) are investigating the outbreaks.
All the infected babies were being fed a liquid mixture of nutrients directly into their bloodstream, which happens when newborns are unable to eat on their own.
Public Health England said the babies developed septicaemia or blood poisoning from the Bacillus cereus bacterium, which has been "strongly linked" to an intravenous fluid supplied by ITH Pharma.
They were being cared for in neonatal intensive care units and the surviving infants are said to be responding to antibiotic treatment.
'Unnatural'
Yousef died at St Thomas's Hospital, in London, on Sunday.
Southwark coroner Dr Andrew Harris said he is treating his death as "unnatural".
Dr Harris is holding a review meeting in public to decide, "whether an autopsy is required and the initial steps to be taken in the investigation".
Yousef's parents, representatives from Guy's and St Thomas' NHS Trust and the manufacturer of the intravenous feed have all been invited to attend.
Public Health England announced one baby had died, and another 14 were ill with blood poisoning on Wednesday.
Three new cases came to light yesterday. Two are said to be likely with one confirmed.
The contaminated batches of feed have since been withdrawn, although as they expired on Monday none should have been used since then.
A total of 162 units of the feed were sent out from the contaminated batches to more than 20 hospitals. It is possible other cases will emerge as tests are carried out.
---
What is Bacillus cereus?
A type of bacterium that produces toxins that cause two types of illness
The most common form causes nausea and vomiting
The symptoms may start one to six hours after eating contaminated food
It is commonly found in dust, soil and vegetation and is likely to be on most surfaces
The poison is not passed from one person to another and symptoms do not usually last longer than a day
Less common is an illness which causes fever and diarrhoea
These symptoms, which may be serious, usually start six to 24 hours after eating and can last for one or two days
---
'Saddened'
Yesterday, the manufacturer of the feed, ITH Pharma, said it was "saddened" by what had happened and was cooperating fully with the investigation.
The company said the suspected contamination had been traced to a "sourced" single raw material ingredient, but it has not given more details of the material it received from one of its suppliers.
The cases have been reported at:
Chelsea and Westminster NHS Trust, London (four)
Guy's and St Thomas' NHS Foundation Trust, London (three)
Brighton and Sussex University Hospitals NHS Trust (three)
Addenbrooke's, Cambridge University Hospitals (two)
Luton and Dunstable University Hospital (two)
The Whittington Hospital, London (one)
Peterborough City Hospital (one)
Southend University Hospital (one probable case)
Basildon University Hospital (one possible case)