How do you feed very sick babies?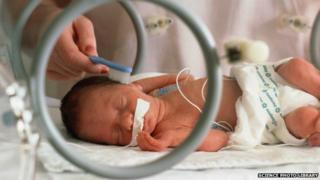 A bacterium called Bacillus cereus has been identified as the cause of one premature baby's death and blood poisoning in 15 other babies. Two other cases are likely to be confirmed.
A special intravenous liquid feed given to some premature babies is thought to have been contaminated by the bacterium.
Babies at nine hospitals in England have been affected.
Public Health England said the cases were "strongly linked" with certain batches of an intravenous liquid made by ITH Pharma.
The company has launched a product recall and the Medicines and Healthcare Products Regulatory Agency (MHRA) has alerted all hospitals.
Why are babies fed this way?
If babies are born very early, they tend to be small, weak and unwell, and may not be able to be fed by mouth.
Babies born before 26 or 27 weeks are likely to need something called total parenteral nutrition (TPN), a specially-prepared liquid feed which is gently pumped into their bloodstream, to help them grow.
The access point is normally through a large central vein. A very thin feeding line is then inserted into the vein to allow the liquid nutrition to enter the baby's body.
These babies tend to be particularly vulnerable to infection.
It is difficult to know how many babies are fed this way in the UK. It can vary from just a two or three babies a week in smaller units to many more in larger hospitals.
What's normally in the feed?
These special feed bags contain sugar, vitamins and amino acids, all vital for a baby's growth.
Fatty acids are also given to them, but in a separate syringe.
Premature babies need this form of food because breast milk is often not nutritious enough to support them, and some are simply unable to digest it.
The feeds can be made up in the hospital or may arrive in packs from the manufacturers, in which case they should be sterile and ready to use.
Where are the feeds made?
The liquid feeds are manufactured by a number of companies around the country. They are often made to order and sent to hospitals when they are needed.
A company based in London called ITH Pharma Limited has been linked to the feeds used in this incident.
It is now helping the MHRA (Medicines and Healthcare products Regulatory Agency) with its investigation.
Public Health England says a possible point when contamination entered the products has been identified.
What is the bacteria that made the babies ill?
Bacillus cereus bacterium, which is thought to have been present in the feed bags, is widespread.
It can be found in soil, dust, plants and some food such as reheated rice.
High temperatures or powerful disinfectants are needed to get rid of the spores formed by the bacterium, which can survive for long periods on surfaces and materials.
It is often present in food production environments.
What has happened to the babies who were infected?
One baby has died and 18 are ill with blood poisoning. Most were premature and were being cared for in neonatal intensive care units.
The infection can cause fever, problems with breathing and vomiting, among other symptoms.
In sick, premature babies a serious infection like this can kill them because they have virtually no immune system to protect them.
The hospitals affected by the contaminated feeds stopped using the product immediately and switched to using a different supplier.
In this way, babies who need intravenous feeding will not go without food for a prolonged period.