British feet are 'getting bigger and wider'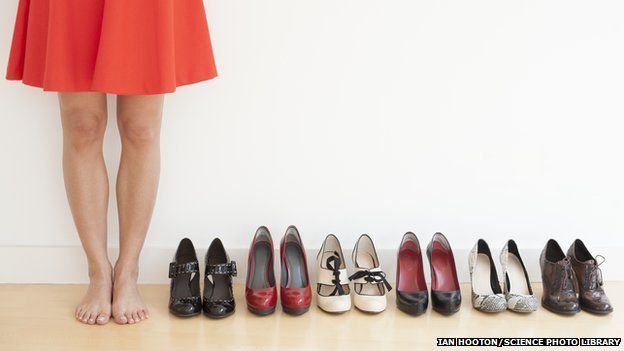 British feet are getting bigger - growing, on average, two shoe sizes since the 1970s, says the College of Podiatry.
Today, the average male wears a UK size 10 compared with a size eight shoe 40 years ago.
The average woman wears a size six versus a size four, its research suggests.
Our taller, heavier bodies are to blame - our feet have compensated by growing longer and wider, says the college.
Its poll of 2,000 UK adults reveals people also perceive that their feet have got bigger.
Over a quarter of men and 41% of women say their feet have got longer or wider in recent years.
A fifth said they struggled to find shoes wide enough.
And many admit to buying ill-fitting shoes - mostly non-intentionally, but sometimes for fashion's sake.
Just under a third of the women and a fifth of the men surveyed said they suffered from daily or frequent sore, aching feet.
Lorraine Jones, from the College of Podiatry - the research arm of the Society of Chiropodists and Podiatrists - said: "Feet are getting bigger because as a nation we are becoming taller and we're increasing in weight.
"Increased weight gain places more pressure on the feet and means ligaments and joints need to work harder to maintain the foot's structure and keep you mobile.
"Over time if someone is gaining weight the feet splay to try and accommodate the increased pressure, which can cause pain, lead to mobility issues and increase your risk of developing osteoarthritis in the lower limb joints.
"Whatever your shoe size, the most important thing is to wear a comfortable, well-fitting shoe."
She said more retailers were introducing wider fitting shoe ranges.
Related Internet Links
The BBC is not responsible for the content of external sites.