'Keep taking statins' says drug body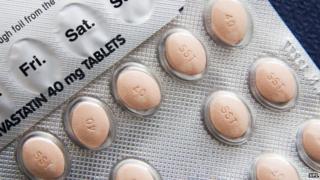 People should continue to take statins because the benefits do outweigh the risks, according to fresh advice from the UK's drug safety body.
The Medicines and Healthcare products Regulatory Agency (MHRA) has intervened due to the ongoing debate around the harms of taking statins.
The drugs reduce levels of cholesterol in the blood, lowering the risk of a heart attack or stroke.
They are taken by about seven million people in the UK.
The MHRA said statins prevented 450 heart attacks, strokes, or deaths for every 10,000 patients taking the drugs over five years.
Potential side effects of statins include:
Type-2 diabetes
Muscle pain
Headache
Nausea
Insomnia
Liver inflammation
Kidney problems
Blurred vision
Nerve damage
But how common the risks are has become a controversial question in the medical profession.
A pair of high profile articles in the British Medical Journal said up to 20% of users would suffer harmful side-effects, but other experts said the claims were wrong and would cost lives by discouraging people from taking the drugs.
The journal is investigating the articles and the authors have withdrawn the 20% figure.
'Saves lives'
The MHRA's monthly Drug Safety Update tells doctors: "The benefits of using any statin in its licensed indication outweigh the risks in most patients."
Dr June Raine, the MHRA's director of vigilance and risk management of medicines, said: "People should continue to take their statins as prescribed.
"Large clinical trials have shown that statins can save lives by reducing the risk of heart attacks, strokes and the need for heart surgery."
The issue has become particularly contentious as the NHS is considering prescribing statins to low-risk patients - who would face the same side-effects but for a much smaller benefit.
Maureen Talbot, from the British Heart Foundation, said: "All medicines can have side effect, but the millions of people who take statins in the UK are reducing their risk of having a heart attack or stroke.
"We welcome the MHRA's review of the evidence and the reassuring message to patients that statins can have life-long health benefits for those at high risk from heart disease.
"Patients should contact their doctor if they are worried or experience any symptoms."