New NHS chief Simon Stevens backs more local hospitals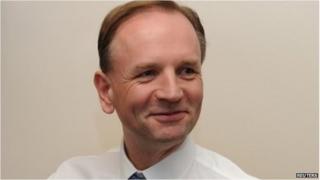 Smaller community hospitals should play a bigger role especially in the care of older patients, the new head of the NHS in England has said.
In an interview in the Daily Telegraph, Simon Stevens signalled a marked change in policy by calling for a shift away from big centralised hospitals.
The health service chief executive said there needed to be new models of care built around smaller local hospitals.
The NHS said he was not suggesting the return of 50s-style cottage hospitals.
In recent years the health service has emphasised the benefits of centralised services.
This has paid dividends in areas such as stroke care and major trauma where significant benefits have been gained by concentrating specialist care.
But this has raised questions about the future of the many smaller district general hospitals across the NHS.
In the interview in Friday's paper, Mr Stevens said they should play an important part in providing care, especially for the growing number of older patents who could be treated closer to home.
He said: "A number of other countries have found it possible to run viable local hospitals serving smaller communities than sometimes we think are sustainable in the NHS.
"Most of western Europe has hospitals which are able to serve their local communities, without everything having to be centralised."
Hospital closures
Simon Stevens' support for smaller hospitals comes as, in some parts of England, such hospitals close.
On Tuesday the closure of Ashby District Hospital in Leicestershire was announced.
A commissioning group said the 16-bed hospital needed £900,000 of repairs and was underused, and said it wanted to provide "more services closer to people's homes".
Earlier this month a health trust said Poltair Hospital in Cornwall would close, saying the "cost of backlog maintenance work to meet current standards is too expensive".
But West Cornwall Health Watch said the decision was based on "dangerously unproven assumptions" and West Cornwall MP Andrew George called it a "backward step".
Lowestoft Hospital in Suffolk closed its 25-bed inpatient facility at the end of March and the main hospital building is due to close later this year.
The hospital's north wing is to be redeveloped to offer services including phlebotomy and outpatient clinics.
But Lowestoft Coalition Against the Cuts said many elderly people would suffer owing to the closure of such "excellent local hospitals".
Mr Stevens said elderly patients were increasingly ending up in hospital unnecessarily because they had not been given care which could have kept them at home.
Mr Stevens also told the Telegraph:
The NHS needed to abandon a fixation with "mass centralisation" and instead invest in community services to care for the elderly
Waiting targets introduced by Labour became "an impediment to care" in too many cases
The European Working Time Directive damaged health care in the NHS, making it harder to keep small hospitals open
Businesses should financially reward employees for losing weight and adopting healthy lifestyles
An NHS England source said Mr Stevens was saying that smaller hospitals had a part to play in shifting services into the community, not that there would be no closures of local hospitals in the future.
Helen Tucker, vice president of the Community Hospitals Association, told BBC Radio 4's Today programme Mr Stevens' comments were "great news", sending a "good, strong message that small is beautiful".
A "balance is needed" with centralised specialist hospitals, she said, but smaller institutions were "the hospitals that local communities really value," she said.
Mr Stevens, a former adviser on health to Tony Blair, will outline his vision for the NHS in a major speech at the NHS Confederation conference in Liverpool on Wednesday.
Analysis
By Dominic Hughes, BBC health correspondent
In recent years the health service in England has emphasised the benefits of centralised services.
So those suffering from a stroke or a heart attack might be taken to a specialist centre rather than the local hospital.
But with only limited resources, the future of smaller district general and community hospitals has been less clear.
Now Simon Stevens, the new chief executive of the NHS in England, says they should play an important part in providing care - especially for older patents who could be treated closer to home.
That might mean they take over GP services or community care.
But what he is not calling for is a return to 1950s-style cottage hospitals nor is he saying that no hospitals will close.
It is more subtle - that the debate in the NHS has focused too much on centralisation and there is still a place for smaller local hospitals.
Chris Ham, the chief executive of the King's Fund think tank, told the BBC the plans could lead to "much more joined up, coordinated care that many older people need".
He added: "We know much of the demand for hospital care these days is for routine acute care for growing numbers of older people.
"What they want is a really good, local, accessible hospital, there for them when they need it.
"This message is quite right, it will be welcomed by many people."
'Recalibrating'
Ruthe Isden, from charity Age UK, said Mr Stevens' comments were "very welcome to us" and she looked forward to hearing more details in his speech next week.
Speaking to BBC News, she said his views signalled a change in tone in the way the NHS is moving.
"In recent years, there has been a lot of thinking about specialist care but we also need to think about wrap-around, community care.
"This is a recalibrating of the way we think about these issues."
She added: "We need to invest in services which look at the holistic needs of the elderly. Things like social care, making sure they don't get lonely and that they are given opportunities to exercise.
"It's a case of not just seeing medical care as the answer to everything."
Katherine Murphy, the chief executive of the Patients Association, said: "For older patients in particular, the prospect of having to travel great distances to get to hospital can be daunting and inconvenient.
"Elderly people need to be treated close to home, with an emphasis on compassion, privacy, dignity and respect.
"In addition, there is a need to have a workforce in place that is trained to look after older people."
Mr Stevens took up the post of chief executive of the NHS in England after 11 years working for private health care firms in Europe, the US and South America.
The Scottish government said it was working to improve "intermediate care" as a "bridge between hospital and home".
Northern Ireland health minister Edwin Poots commissioned a review which said services should be provided "in the community, closer to people's homes where possible".
He said "significant progress" was now being made.
A spokesman for the Welsh government said it was "good to see England following Wales' lead on this issue".
Changes to the NHS in Wales were introduced in 2009 to "provide more care closer to people's homes".
"We have long recognised the important role of a community care-led NHS, which is integrated with social care, in delivering care to patients closer to their homes," the spokesman added.