GP: 'Demand and money causing practice to break apart'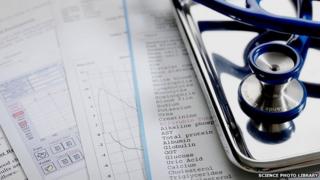 "Under severe threat of extinction" with "plummeting morale" and suffering from a "loss of funds and high demand" - all descriptions of the pressures facing GP surgeries in the UK. The BBC's Jenny Cuffe went behind the scenes at two GP practices to find out if things are really that bad.
Half an hour's drive from his surgery in the village of Egton, Dr Julian Fester pulls up at a grey stone farmhouse on the top of the North York Moors. His patient, an elderly man in the last stages of cancer, is sitting in an armchair in the low-ceilinged kitchen with his wife at his side.
Although the GP is under pressure to complete his home visits and call in at Whitby hospital before the afternoon surgery, he shows no sign of hurry. He chats about the farmer's blood test results and makes sure he has the right medication to make his last weeks comfortable.
Dr Fester is one of two GPs serving a population of 2,500, spread across a wide area of national parkland - crowded with caravans in summer months and often blocked by snow in winter.
Staff at his practice describe him as "laid-back" but nowadays they often catch him looking worried, and with good reason.
Under pressure
This year, the Government announced the phased withdrawal of the minimum practice income guarantee (MPIG), a sum of money awarded to practices that lost income when the GP contract was drawn up in 2004.
Egton, which is one of the 98 most severely affected, will lose a quarter of its income.
"The worst scenario is that we will lose a doctor," says Dr Fester.
In her office overlooking a field of munching cows, his practice manager Alison Williams shows me the accounts. "We've been making efficiencies over the last two years because we knew this was coming, but there are only so many efficiencies you can make before it starts breaking apart."
Dr Fester has followed NHS England's advice in considering partnerships with other GPs in the area but says they are not interested in taking on his deficit. He has asked NHS England for support but it had nothing to offer.
In an interview for File on 4, its head of primary care commissioning, David Geddes, said it is more equitable to redistribute the MPIG money among all practices, but he does not rule out giving the hardest hit some extra financial support.
On a brighter note, Egton is part of a consortium of GP practices that has successfully bid for the prime minister's challenge fund, a £50m pot for doctors who will offer longer surgery hours. It will allow Dr Fester to do more of what he is already doing one day a week.
Open for longer
On Friday, surgery starts at 7am and I arrive in a thunderstorm to find the first patients already waiting. First in the queue is a lorry driver, glad that he can see the doctor and pick up his prescription at the practice pharmacy before setting off in the rain with his first load.
Dr Fester sees the challenge fund as an exciting opportunity to improve patient services but points out that it is only a one-year pilot scheme. He says he is more worried about keeping his normal 8am-6pm going than offering extended hours.
It is not just rural practices that are under pressure. My next visit is to the Lakes Medical Centre in Salford, on the junction of two busy main roads, where seven GPs, an assistant practitioner, a phlebotomist and two practice nurses look after a population of 8,500.
Out of public view, three receptionists are fielding calls from patients anxious to get an appointment as soon as possible, but by 8.20am all available slots for the day have gone, except for a few reserved for urgent cases. One caller slams the phone down on being told she will not be able to see her GP for another fortnight.
Between patients, Dr Jenny Walton describes the way her job has changed in the 20 or so years she has been practising. Patients expect treatment for complaints like colds or flu and they are more demanding.
"An increasing number of younger people want everything to be done today; they are 24/7 people," she says.
She also sees older patients with complex needs and conditions, such as diabetes, which need to be carefully monitored. Once, patients would come to the doctor three or four times a year, but now that frequency has doubled.
As general practice is funded per patient and not per consultation, this has a profound impact on funding.
A mother brings her small boy into Dr Walton's consulting room, worried that he keeps being sick for no apparent reason.
'Perfect storm'
In the 10-minute allotted span for a consultation, she gets the reassurance she needs and advice about appropriate medication. On the wall above Dr Walton's desk is a photograph of her four daughters, arms linked and smiling faces. None of them has followed her professional footsteps; and not many of today's medical students are choosing general practice.
"You used to get at least 20 applicants for every job but now you are lucky if you get three or four," says Dr Walton.
The senior partner at the Lakes has just turned 60, another wants to retire earlier than expected because of the stress, and she has only three years to go.
"How we will fill those vacancies, I'm not too certain."
Together, the problems of recruitment, workload pressures and a squeeze on funding create a situation that some doctors' leaders have described as a perfect storm.
Prof Chris Ham, chief executive of the King's Fund, believes that at the heart of it is an historic inequity in NHS funding.
GPs are responsible for 90% of patient contact yet receive less than 8% of funding.
Prof Ham says: "What is new is that in recent years the small proportion has actually declined relative to what has gone into other NHS services. What we are seeing is primary care getting a smaller share of a static cake."