Newborn babies to be tested for rare diseases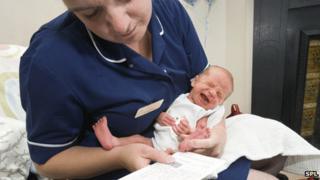 The number of conditions for which newborn babies in England are screened is to increase.
All babies born in the UK are already tested for common genetic conditions such as cystic fibrosis.
Now four additional, rarer disorders will also be checked for in the heel-prick blood test.
A year-long pilot study found 20 cases of the diseases in 700,000 babies tested.
Experts said it proved carrying out these tests could make an "enormous difference" to the children concerned and their families.
And they suggest there will be saving to the NHS of introducing the tests, because they will pick up conditions before children get sick and need potentially expensive treatment or care.
Early help
Babies currently have the heel-prick test at between five and eight days old to check for:
Phenylketonuria (PKU),
Congenital hypothyroidism (CHT),
Sickle cell disease
Cystic fibrosis
Medium-chain acyl-CoA dehydrogenase deficiency (MCADD).
The baby's heel is pricked and drops of blood are collected and analysed in a laboratory.
Detecting conditions at this stage means babies can get the treatment and support they need from the earliest stage possible.
The extra conditions which will now also be tested for are:
Maple syrup urine disease
Homocystinuria
Glutaric acidaemia type 1
Isovaleric acidaemia
They are all inherited conditions where babies have problems breaking down amino acids, the "building blocks" of proteins.
If amino acid levels are too high it can be harmful.
The conditions cause a range of symptoms, ranging from the relatively mild - such as poor feeding - to much more serious, such as coma and brain damage.
Babies can also be particularly affected by common childhood illnesses such as chest infections or stomach upsets.
However early treatment and careful management will enable affected babies to develop normally.
Roll-out
The pilot programme was run by Sheffield Children's NHS Foundation Trust.
Prof Jim Bonham, who led the project and is director for newborn screening at Sheffield Children's NHS Foundation Trust, said the introduction of the screening nationally was "fantastic news".
He added: "We are delighted with the results because it shows how we can make an enormous difference for these children and their families, in some cases giving them the gift of life."
Dr Anne Mackie, director of programmes for the UK National Screening Committee, which is supported by Public Health England, said: "Since the start of the pilot in July 2012 more than 700,000 children in England have been tested for these disorders and 47 possible cases identified with 20 confirmed.
"We will help similar numbers each year now the extension is being rolled out."
Health ministers have agreed the expanded screening programme should be extended across England.
Scotland, Wales and Northern Ireland have yet to decide if they will follow suit.