Life expectancy: Which football fans are Premier League?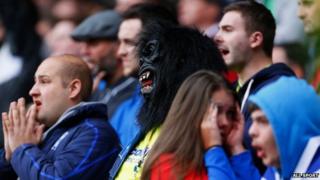 A few weeks ago, I went to watch Crystal Palace beat a fairly dreadful Aston Villa in the Premier League.
Unlike the Villa players, their fans occasionally burst into life, at one point singing they were "Villa till [they] die".
I was curious about how much of a commitment they were making. Life expectancy is astonishingly varied. So I worked it out (see tables below).
For each neighbourhood in the country, I calculated what the nearest English Football League or Premier League team was.
I cut down that catchment area to the 100,000 people living nearest to the stadium and then, using the latest official data from Public Health England, worked out average male life expectancy for that group.
It's all a bit rough and ready and about towns, not really about football fans. People move, and they choose teams on more than geography, but it turns out that fans from that Villa heartland of Birmingham are probably not making much of a commitment.
Male life expectancy (which, to be blunt, was the issue for that crowd) among people living in that Villa catchment is just under 73 years. For south London-based Palace, it's 78.
If it's any consolation, with Villa playing the way they have been, their fans' lives might feel very long indeed.
That gap between Birmingham and suburban south London reflects a broader trend. Deprived areas are markedly behind the richer.
So, the east Lancashire towns, north-eastern London (near Arsenal and Spurs) and the West Midlands are all low performers.
Preston, in Lancashire, has life expectancy in line with Mexico. If the west London Chelsea catchment area were a country, it would be second only to Japan.
These tables are a bit frivolous, but make a serious point. First, life is harder and more uncertain for people in poorer areas.
Staying fit and eating well is expensive. And the gaps are enormous. From Crawley Town, in Sussex, at the top, to Birmingham City, at the bottom of these samples, it is nine years of life.
And remember, this isn't a street or two we have sampled - it is 100,000 people at a time.
Second, it is about more than just rich and poor. Local health is also about local culture - some of which is very visible in the data.
Using health surveys, we can, for example, estimate the levels of obesity among the clubs' catchments.
While obesity is also linked to deprivation, we can say that Gillingham's hinterland in Kent has a particular problem with obesity. Almost one-third of adults in the Gillingham catchment are obese.
Some areas also have major alcohol problems, which are peculiar and cultural. About 40% of the people living near Newcastle United's ground engaged in binge-drinking in the week before the last health survey was taken. For men, that means drinking eight units of alcohol in a single session. For women, it means six units.
Newcastle's is a uniquely severe problem. Large local Muslim populations probably account for some of the very low bingeing figures for, say, West Ham, in London, and Bradford.
The forces that drive health inequality - like many inequalities - are structural and impersonal. But the way that health inequality expresses itself is local. And that's a major problem for policy-makers.
You can see Chris's report on Newsnight on Thursday, 22:30 BST, on BBC Two.
Click on the different headers to see how your club's fans rank