Disabled and broody: Why I decided not to have children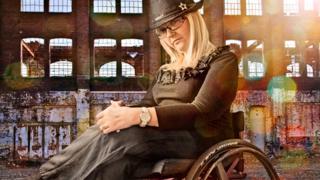 For people with a disability the question of whether or not to have children is not simply a matter of fertility. It is a moral conundrum.
I was born 10 weeks early in a private hospital in St John's Wood in north London to parents who had no experience of disability.
The moment I was born I was rushed to another hospital that had a premature baby ward. I, like many premature babies, had jaundice and struggled to breathe.
My parents came to visit me regularly in hospital not realising what lay ahead.
When I was a week old, the doctor on duty did the hip test on me which is done on every child and during the process broke both my femurs.
As you can imagine, this rang alarm bells and I was then tested and diagnosed with osteogenesis imperfecta (OI), otherwise known as brittle bone disease.
My parents were told they could leave me at the hospital if they wished, however, if they took me home they had to carry me on a pillow for my short-lived life as they thought that I would be lucky to make it to the age of two.
Negativity
Thankfully my parents ignored the negativity surrounding my prognosis from the hospital and took me home, fed me up and looked after me so well that I am now 40 and doing OK.
Over the years I have had approximately 100 fractures and 70 operations and as age sets in so does the pain which makes getting through every day rather tiring.
But I won't let it beat me.
I work full-time (six days a week) in the media industry as an actress, presenter, campaigner and disability awareness trainer and three years ago I opened a craft shop and training centre in Cambridgeshire.
I am a firm believer that I own the disability, it doesn't own me.
Ten years ago I met my husband Andy and we got married in 2008.
I didn't think I would ever meet a man who wouldn't have an issue with my disability and my being a wheelchair user.
Luckily for me Andy loves me for who I am and the disability has never been a problem for him.
Honest from the beginning
Even so, I did have to be honest with him from the very beginning and tell him that I didn't want to have my own children because there is a 50% chance with every pregnancy that the child would inherit OI.
I felt very strongly that I didn't want to pass on my disability to another human being.
To put things into perspective I must tell you that I have had a great life so far, travelled the world, met amazing people and had some amazing experiences but - and this is a big but - 100 fractures and 70 operations is no walk in the park and this is not something I would want to pass on to my own children.
We discussed the possibility of adopting or surrogacy but Andy wasn't keen on either of these so we decided that the best thing for us was to become foster parents.
I was really happy about it as I had wanted to foster for a long time and always assumed that I wouldn't be allowed as a disabled person.
Thankfully the rules have changed and for the last four years we have been fostering with Peterborough Fostering.
For Andy, a big factor in the decision-making process was knowing my being pregnant could possibly do quite a bit of harm to my body and he was adamant I not be put through this.
I have friends with OI who have children, some with and some without the disability, and they all do a terrific job so I do realise that this is a very personal choice.
While making this programme I spoke to actor Warwick Davis. He and his wife, Sam, both have different forms of dwarfism. They have two children, Annabel and Harrison, who have both inherited Warwick's condition, a form of dwarfism.
I asked them if they suffered from guilt but Sam said: "I've only wavered once... one time we were talking about Annabel's surgery with the doctor... and he hugged her. And I realised she was really poorly. And just for a second I thought, 'This is my fault.'
"But she's a fantastic person, she's got so much to give, she's changed everybody's life and the world is a better place with her."
In some ways my decision goes against my political beliefs in disability equality and I feel I am contradicting myself but in this instance I really don't mind.
I am glad that we made the choice that we did but there are times when I feel really guilty about it.
My husband will never have his own children, my parents and Andy's parents will never have a grandchild and so it goes on.
I wonder who will visit us when we get old, as we don't have our own children.
Despite all this we are really happy and glad that we have been able to support different children in foster care who need people like us to give them love and encouragement.
It has truly made me realise that bringing up another human being in a loving and supportive environment is the most important factor, to me it's irrelevant who the child belongs to genetically just that we are doing what is right for us.