Pregnant women urged to get whooping cough jab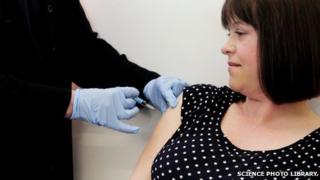 Pregnant women are being urged to take up the offer of a whooping cough vaccine, even though cases have fallen by half since an outbreak in 2012.
Public Health England says cases among young babies have seen the greatest fall, from 407 in 2012 to 85 in 2013, but the infection is still circulating.
All pregnant women are offered the vaccination to protect their baby in early life.
Fourteen babies died with whooping cough in 2012, and three in 2013.
The Department of Health began a temporary vaccination programme for pregnant women in October 2012, in response to a whooping cough outbreak.
In 2012 there were 9,367 confirmed cases of the infection in England. There were 51% fewer cases in 2013, a total of 4,623 - but the numbers are still much higher than pre-outbreak levels in 2011.
Latest vaccine uptake figures show that about 60% of pregnant women have received their vaccination.
PHE's head of immunisation Dr Mary Ramsay said: "The increase in vaccine uptake over the last six months is very encouraging, but we need to ensure we vaccinate as many pregnant women as possible to avoid further tragic deaths.
"While the infection remains at such high levels we are urging pregnant women to ensure they are vaccinated between 28 and 38 weeks of pregnancy.
"We are also working with GPs, midwives and other health professionals to ensure they have the facts at hand to help women make the decision to vaccinate."
PHE said parents should also be alert to the signs and symptoms of whooping cough - which include severe coughing fits which may be accompanied by difficulty breathing - or pauses in breathing in young infants - or vomiting after coughing and the characteristic "whoop" sound in young children.
This may turn into a prolonged cough in older children or adults.
Dr Ramsay said parents should also ensure their children were vaccinated against whooping cough on time.
Even babies of women who have had the vaccine in pregnancy should be vaccinated, so that their baby is protected right through childhood.