Legal challenge over NHS spending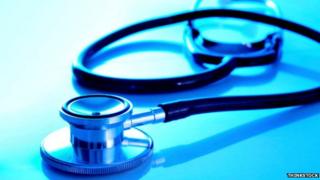 The NHS is facing the first legal challenge of its kind into how family doctors in England consult patients over the allocation of health service budgets.
Campaigners have applied for a judicial review into how Bristol's Clinical Commissioning Group (CCG), which oversees local health services, is spending its £500m budget.
Protect our NHS says the group is failing in its legal duty to consult the public over decisions.
But the CCG denies the charge.
Ever since family doctors were put in charge of CCGs a year ago there has been growing concern that decisions are being made behind closed doors.
CCGs have the same obligations to consult patients over changes in local health services as the primary care trusts they replaced.
But some health campaigners claim that, with limited resources, CCGs may not fail to do so as much as they could.
Now lawyers for the Protect our NHS campaign group have served an application for judicial review on Bristol CCG arguing its draft policy for the procurement of health services is unlawful.
The group fears up to 10% of the city's £500,000 health budget will end up with private companies - and it claims the CCG's policy does not meet the duty to consult that is required by the 2012 Health and Social Care Act.
Public voice
Rosa Curling of Leigh Day solicitors is representing the group taking action. She said: "There is a legal duty on that NHS body to involve the public on deciding what services should be provided and who should be providing those services.
"That duty is very, very clear, and it's incredibly important to a successful running of a public service like the NHS. The CCG is not making sure that the public voice will be heard in their decision-making process in relation to changes to NHS services."
But Bristol CCG says it will defend itself against this claim.
In a statement, it said: "The CCG is disappointed by the claim made by Protect our NHS as our policy is robust and we are active in engaging and involving local people and organisations.
"We take our obligations to engage very seriously and we met with Protect our NHS to explain the extensive arrangements we make in the context of specific commissioning projects. The CCG is entitled to retain a degree of flexibility as to what will be the extent of engagement in any given situation given that the value and nature of different services varies widely."
The patient group Healthwatch England says at least a third of its members lacked confidence that they would be given an opportunity by CCGs to influence and support their public engagement.
This is the first time an application for judicial review over formal arrangements in the way NHS services are commissioned by CCGs has happened.
Health bosses across the country will be watching closely to see whether it succeeds.