Care home residents 'doped up', survey finds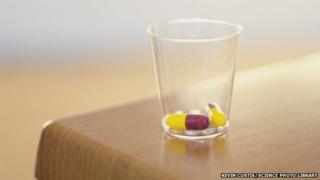 Large quantities of anti-psychotic drugs are being given to people with learning disabilities who are resident in hospitals or specialist units.
Figures, compiled after the scandal at Winterbourne View care home, show almost two-thirds of residents are given the drugs on a regular basis, rather than when required.
The figures also show that more than a third of residents are subject to hands-on restraint.
Mencap called the findings disgraceful.
The data comes from the Learning Disability Survey, which was carried out in response to the expose by the BBC's Panorama of shocking standards of care for people with learning disabilities at the Winterbourne View care home, near Bristol.
This the first time the data has been gathered.
'Over-medicated'
Anti-psychotic drugs are meant to be used only when required, but the survey found that of those being prescribed the drugs, just 7% were being given them solely on an "as needed" basis.
The survey, conducted by the Health and Social Care Information Centre, showed that 3,250 people were resident in hospitals or specialised care homes in September 2013 and that:
11% of people in these units are paying more than £4500 per week
Almost half of residents (46%) did not have a care plan in place to help them move out
Earlier figures, released in December from the same survey, showed that around one in five residents was staying in a hospital ward 100km or more from home.
Under a government guarantee following the review into proceedings at Winterbourne View, councils and clinical commissioning groups have until June to move residents out of those units and into community care closer to home.
Jan Tregelles, chief executive of Mencap, and Vivien Cooper, chief executive of The Challenging Behaviour Foundation, said: "That some of the most vulnerable people in our society are in settings where they are regularly restrained, over-medicated and kept in isolation is utterly disgraceful.
"In addition, the fact that this appalling 'care' is costing the public purse, in many cases, up to £4,500 per week demands that urgent questions are asked and answers provided.
'Restrained 45 times'
"It is not enough for the government to say it should not be happening. It is happening to people's sons and daughters, brothers and sisters and, what's more, people are continuing to go into these places faster than they are coming out. The failure to stop this happening is an utter disgrace."
Steve Sollars, whose son was at Winterbourne View, said: "It is devastating to hear that this is still happening. My son, Sam, was restrained 45 times in a six-month period. We will never know how much more he was subjected to for the rest of his two-year time there.
"When he came out of Winterbourne View, Sam was unrecognisable because of what he had been through. He is now flourishing in the place where he is. Good care is possible and everything must be done to stop abuse and suffering of people who find themselves in similar places to Sam."
All the care institutions involved in the survey are registered with regulator the Care Quality Commission.
The CQC's mental-health lead, Dr Paul Lelliott, said: "The Learning Disability Census presents a picture of some unacceptable practices. Over half the patients had been subject to at least one incident of restraint or seclusion, self-harming, an accident or physical assault in the three months prior to the census.
"Almost half of the patients had no discharge plan in place. The report will provide CQC with additional information to support our inspection activity of these services."
Care and Support Minister Norman Lamb said: "People with learning disabilities or autism deserve the best possible care, so the widespread use of antipsychotics and restrictive practices is extremely concerning. This is intolerable and needs to change.
"I want to see progress on these issues when the next set of data is published later this year."