Foreign doctors should face tougher exams, study says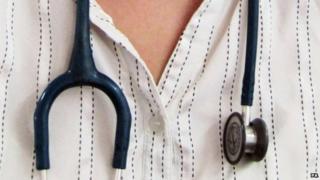 Tests taken by foreign doctors who want to work in the NHS should be made harder to pass to bring them in line with UK standards, a study has said.
Research by University College London found a "performance gap" between international and UK medical graduates.
It said pass marks for entry exams sat by international doctors should therefore be set "considerably higher".
But the British International Doctors Association disputed the findings and called for a standardised test for all.
The research, commissioned by the General Medical Council (GMC), said 1,300 foreign doctors a year passed the competency exams, which assess clinical and language skills.
But it warned their subsequent performance indicated that half of them should not have qualified.
It suggested raising the pass mark from 63 to 76%.
Chris McManus, professor of psychology and medical education at UCL, told BBC Radio 4's Today programme this was the easy solution for the short term.
"In the longer term, I think there probably has to be a national qualifying exam which would be sat by everybody. But that's actually surprisingly hard to put in place," he said.
Prof McManus added: "The evidence is that some of those at the bottom end of the distribution are not performing as well.
"I have to emphasise, many of those at the top end are extremely good and the NHS depends on them. They're experts. They're specialists and so on."
'Tremendous contribution'
Figures showed that in the five years to 2012, 669 doctors were struck off or suspended - 420 of those had trained abroad.
Umesh Prabhu, national vice-chairman of the British International Doctors Association (BIDA), said he would only support raising pass marks if there was proof all doctors were tested to the same standard.
"Overseas doctors have contributed tremendously to the National Health Service," Dr Prabhu told the BBC.
"And the NHS wouldn't survive without overseas doctors' contribution. The number of overseas doctors who have been struck off is a very tiny number.
"But it's important that we protect patients."
Dr Chandra Kanneganti from BIDA told the BBC News Channel the higher numbers of referrals of foreign doctors to the GMC could be a result of various issues, including communication differences and even racism.
The association also warned that making the tests more difficult could lead to a shortage of doctors.
Language checks
More than 95,000 foreign-trained doctors work in the UK, making up a quarter of the total number.
The GMC called for the UCL study after it set up a working party to review whether the competency exam needed to be updated.
Tougher language checks for European doctors are due to come into force this summer.
GMC chief executive Niall Dickson told the BBC that some foreign doctors themselves would admit to finding it difficult to adjust to working in the UK.
Mr Dickson said more needed to be done to help foreign doctors coming into the UK, and to recognise the difficulties they face with different social and cultural attitudes.
"Doctors are a bit like flowers. We don't just take them up from one garden and plonk them down in another and expect them to thrive," he said.
"They need to be supported and helped, and I don't think as a country, and I don't think that the NHS or indeed we have done enough to support them when they are coming into this country."
Mr Dickson also praised foreign doctors who do a "fantastic service" to the NHS.
But he added that there needed to be a focus on training more doctors in the UK and less of a reliance on those from overseas.