Scarlet fever cases rise to weekly high in England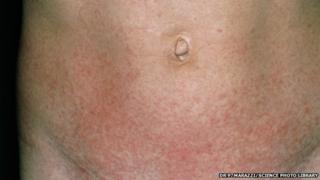 There have been 883 new cases of scarlet fever across England in the past week - the highest weekly total for more than 30 years, says Public Health England.
Scarlet fever cases have been rising for around six months with a current total of 5,012 since September 2013.
Most cases of scarlet fever are mild and can be treated with antibiotics, but there can be complications.
Symptoms include a rash, sore throat, headache and fever.
Dr Theresa Lamagni, Public Health England's head of streptococcal infection surveillance, said the increase in scarlet fever had been seen across the UK.
"We are working closely with healthcare professionals to try and understand the reasons behind these increases and do our best to reduce the impact of this infection."
The weekly total of 883 was reported between 24 and 30 March.
Since September 2013, the largest number of cases have been reported in the East Midlands (778) and in London (502).
There have now been five times more new cases since September than the average for the same period in the past ten years.
Dr Lamagni urged people with symptoms to consult their GP.
"Once children or adults are diagnosed with scarlet fever we strongly advise them to stay at home until at least 24 hours after the start of antibiotic treatment to avoid passing on the infection."
Scarlet fever is mainly a childhood disease and is most common between the ages of two and eight.
It was once a very dangerous infection, but has now become much less serious. There is currently no vaccine for scarlet fever.