Dementia diagnosis drive raises concern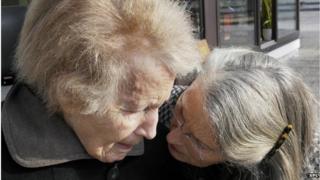 Questions are being raised about the government's drive to increase dementia diagnosis rates in England.
Fewer than half of the estimated 670,000 people with dementia have a formal diagnosis, but ministers want to see this rise to two-thirds by 2015.
But a GP writing in the British Medical Journal warned the push could lead to over-diagnosis.
Meanwhile, the Alzheimer's Society said it was being undermined by the lack of support after diagnosis.
There is no cure for dementia, but there is some evidence that access to drug treatment and services, such as memory clinics, and activities such as singing and physical exercise, can help people remain independent for longer.
George McNamara, of the Alzheimer's Society, said: "Demand for post-diagnosis support is already outstripping supply so if we are to cope with the increase in diagnoses, access to these services must be improved.
"But the trouble is the squeeze on funding is making that difficult."
'Wrongly diagnosed'
The BMJ article by Surrey GP Dr Martin Brunet questions whether it is right to have targets based on estimations of under-diagnosis.
The diagnosis rate is calculated by using the number of formal diagnoses and comparing that with the number of people thought to have the condition based on previous research.
But Dr Brunet said there are no guarantees that figure was correct and the desire to drive up diagnosis rates could lead to people being wrongly diagnosed.
"The potential harms inherent in setting targets for diagnoses have not been analysed despite the obvious danger that working towards targets can lead to perverse behaviours and outcomes," he said.