Call for change to breast cancer screening approach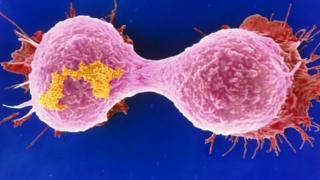 Almost one-third of women are at a higher risk of developing breast cancer and should be screened more than once every three years, a study says.
The study analysed 53,467 women between 2009 and 2013.
Scientists found 14,593 women had an "above average" risk of developing breast cancer.
They hope the study will help prevent cases of breast cancer through women being more aware of their own risk and adopting certain lifestyle changes.
NHS cost-saving
An above average risk was defined in the study as a 3.5% chance of developing breast cancer in the next 10 years.
Women aged between 50 and 70 are currently offered a mammogram once every three years, to help identify cancer early, so treatment has a better chance of working.
Lead researcher Prof Gareth Evans, at the University of Manchester, said greater prevention would not only save more women the "awful" actuality of being diagnosed, but would also save the NHS an "enormous amount of money".
Scientists assessed a patient's likelihood of developing breast cancer through questionnaires assessing risk factors, such as family history and lifestyle, and collected genetic information from saliva.
A new approach?
They also measured breast tissue density, which is an indicator of a patient's susceptibility to breast cancer, using mammograms and a visual assessment.
Prof Evans said in an "ideal world", women could fill in an online questionnaire documenting their risk factors and then have their breast tissue density analysed by a mammogram.
He said those at a greater risk could have more regular screening, to detect cancer early and stop it spreading.
Certain lifestyle changes could also be adopted, such as exercising, which he said decreases risk by 30%, not putting on weight, or losing weight, and reducing alcohol intake.
Prof Evans added: "This would put women's destiny into their own hands."
Trial needed?
Since an independent review into the effectiveness of breast cancer screening was published in 2012, there has been much debate around the concept of "over-diagnosis".
Over-diagnosis happens when screening correctly identifies a tumour but one that would never have caused harm.
It means women undergo treatment which could be unnecessary, such as surgery, hormone therapy, radiotherapy and chemotherapy, and may suffer often considerable side-effects.
Prof Michael Marmot, from University College London, said the study could help with this issue.
He said women at a high risk of developing breast cancer would be more likely to show signs of a serious form of the disease, so the treatment could be more relevant.
But he said a trial was now needed to see assess the significance of missing one or two years of screening in a cancer's development.
NHS programme
He said: "Would more regular screening lead to a rapid decrease in risk or would it take some time?"
Prof Evans said he will now be approaching the NHS to try to secure funding for a new approach.
A spokeswoman for the NHS Cancer Screening Programmes said if "evidence changed", in relation to a change of approach, they were "sure that would be a step that would be looked at".
The organisation had now expanded to give women at high risk more frequent screening, using information about their family history, which they had passed on to their doctors, the spokeswoman said.