Mother and daughter fight drug-resistant TB together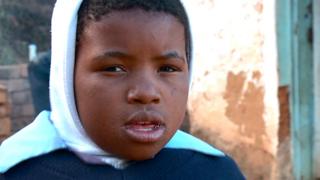 Nine-year-old Zethu and her mother Nonhlanhla Lukhele sit watching cartoons together in their home in Mbabane, Swaziland. In front of them is a powerful and toxic cocktail of drugs to treat the drug-resistant form of tuberculosis (TB) that has infected them both.
Each day they have to take about 40 pills between them. Nonhlanhla is also having daily painful injections. A side-effect is the loss of hearing. She is now deaf.
"Well, you can't exactly communicate with her because she can't hear," says Zethu.
"Whatever I try [to speak to her] she just doesn't understand - even if I write it down, or speak to her in sign language.
"I wish it was like in the past when she could hear."
This is the new face of a very old disease. TB is becoming increasingly resistant to the drugs traditionally used to treat it.
Every year about 8 million people become infected with the airborne disease and 1.3 million die.
Normal TB is usually treated with a six-month course of antibiotics, but because of the misuse of these drugs, new strains have mutated into deadlier forms of the disease. They are harder and more expensive to treat.
Patients have to endure toxic treatment, taking about 10,000 pills over the course of two years.
Almost 500,000 people developed this type of drug-resistant TB in 2012, according to the World Health Organization (WHO), but fewer than one in four was diagnosed.
That means they were not on proper treatment and were walking around in their communities potentially spreading these deadlier strains of the disease.
"It's very contagious," says Nonhlanhla. "I even infected my child.
"She is in and out of hospitals and she is getting behind with her school work. I really don't see a bright future for her."
One of the key problems is access to labs that are capable of diagnosing these new deadlier forms of the disease so people can start on treatment.
"Earlier and faster diagnosis of all forms of TB is vital," says Dr Margaret Chan, WHO's director general.
"It improves the chances of people getting the right treatment and being cured, and it helps stop spread of drug-resistant disease."
The WHO says diagnostic facilities around the world are improving.
In 2009 there were just 1,810 multidrug-resistant TB cases detected in 27 low and middle-income countries, according to the WHO.
Last year that had risen to almost 72,000 cases, thanks largely to global health initiative called Expand Access to New Diagnostics for TB.
New drugs needed
The other key challenge facing the fight against these new strains of TB is the lack of new drugs to treat them.
Last week the medical charity Medecins Sans Frontieres (MSF) called drug-resistant TB "one of the biggest global health threats we face today" and called for new and more effective drugs to be developed and trialled.
It said, although two new drugs have been released recently, the first in 40 years, it will be many years before patients have access to the revolutionary new treatment they need.
TB drugs have to be used in combination in order to be effective, but clinical trials combining the new drugs are not under way yet.
"The DR-TB [drug-resistant forms of TB] crisis is everybody's problem and demands an immediate international response," says Dr Sidney Wong, MSF's medical director.
"Each year we are diagnosing more patients with DR-TB, but the current treatments aren't good enough to make a dent in the epidemic.
"It doesn't matter where you live; until new short and more effective treatment combinations are found, the odds of surviving this disease today are dismal."