Gut bacteria turn dark chocolate 'healthy'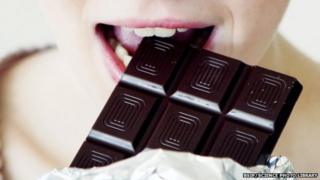 Bacteria in our stomach ferment chocolate into useful anti-inflammatory compounds that are good for the heart, scientists have said.
The Louisiana State University team told the American Chemical Society meeting that their lab work had revealed the finding.
Gut microbes such as Bifidobacterium feast on the chocolate and release beneficial polyphenolic compounds.
The scientists believe adding fruit to chocolate could boost the fermentation.
Dr John Finley and his team tested cocoa powder, but say solid dark chocolate contains the same polyphenolic or antioxidant compounds.
Chocolate pill
Meanwhile, the US National Heart, Lung and Blood Institute plans a big trial of a chocolate pill for heart disease.
It's teaming up with chocolate manufacturer Mars, which has patented a way to extract a specific type of these beneficial compounds - flavanols - from cocoa in high concentration and put them in capsules.
Dr JoAnn Mason, who will be leading the trial, said: "You're not going to get these protective flavanols in most of the candy on the market. Cocoa flavanols are often destroyed by the processing."
The idea of the study was to see whether there are health benefits from chocolate's ingredients minus the sugar and fat, she said.
The 18,000 participants that they hope to recruit will get dummy pills or two capsules a day of cocoa flavanols for four years, and neither they nor the study leaders will know who is taking what during the study.
Christopher Allen, of the British Heart Foundation, said: "Though flavanols are found in dark chocolate, this doesn't mean we can reach for a chocolate bar and think we're helping our hearts. Flavanols are often destroyed by processing and by the time a chocolate bar lands on the supermarket shelf it will also contain added extras such as sugar and fat."
He said though chocolate could be enjoyed as a treat, it was not good to eat in large quantities.
"Eating lots of sugary and fatty foods can lead to obesity and type-2 diabetes, which are major risk factors for heart attacks and strokes," he said.
A diet rich in fruit and vegetables, combined with an active lifestyle, is the best way to keep your heart healthy, the BHF advises.