Poor 'face many more years of bad health' than affluent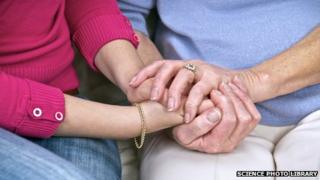 People living in the most affluent areas of England can expect almost 20 years' more "good health" than those in the poorest, data suggests.
The Office for National Statistics (ONS) said those from the most affluent areas also live longer overall.
So the most deprived are likely to spend more years of their shorter lives in poor health.
Smoking, disease and healthcare access helped explain the gap, the ONS said.
Women in the most deprived areas could expect to live on average seven years less than women in the most affluent postcodes, with men living nine years less.
Data was collected between 2009 and 2011.
'Benchmark for future'
The ONS emphasised that an area itself was not deprived, but that it was the "circumstances and lifestyles" of people living in that area, relative to those in another.
The survey took into account income, employment, health and disability, education, barriers to housing and services, living environment and crime.
People in the most disadvantaged areas were twice as likely to smoke than those in the most affluent areas, which could be partly behind the disparity, said a spokesperson for the ONS.
Immunisation rates also helped people to live longer in richer areas. "This study will provide a benchmark figure for future studies," the spokesperson said.