Resurgence of scarlet fever reaches 24-year high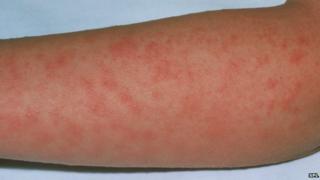 England is seeing a resurgence of scarlet fever with the number of cases reaching a 24-year high, data reveal.
Public Health England says there have been 868 notified cases in February, compared to 591 in the same period in 2013.
This figure is at its highest for this time of year since 1990.
The bacterial illness causes a distinctive rash, high temperature and sore throat as well as a white coating on the tongue.
The number of cases normally increases during the winter because scarlet fever bacteria is found in mucus and saliva - which can be spread through coughing and sneezing.
Cases are more common in children although adults can also develop scarlet fever.
Symptoms usually clear up after a week and in the majority of cases remain reasonably mild providing a course of antibiotics is completed to reduce the risk of complications.
Children or adults diagnosed with scarlet fever are advised to stay at home until at least 24 hours after the start of antibiotic treatment to avoid passing on the infection.
Dr Theresa Lamagni, PHE's head of streptococcal infection surveillance said: "We will continue to closely monitor these increases and work with healthcare professionals to try and halt the spread of infection."