NHS boss's Stafford Hospital regret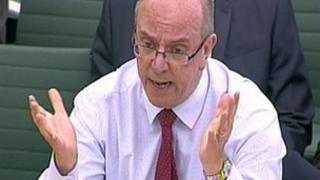 Outgoing NHS boss Sir David Nicholson says he "bitterly" regrets not speaking to patients and their families caught up in the Stafford Hospital scandal.
Sir David said not talking to them had been his "biggest mistake" during his 36 years of service in the NHS.
He said he had avoided speaking to those affected because he had feared becoming embroiled in a media circus.
Sir David, who retires at the end of the month, has come under intense scrutiny for his role in the scandal.
Speaking at a health care conference in Manchester, the NHS England chief executive referred to a visit to Stafford Hospital after a damning report was published in 2009.
He told delegates at the Health and Care Innovation Expo in Manchester: "The biggest and most obvious mistake that I made was when it became clear, when the Health Care Commission reported on Mid Staffordshire, and I went to the hospital and I didn't seek out the patients representatives and the people who were in Cure The NHS, and I didn't do it because I made the wrong call.
"At the time Andy Burnham [the then Health Secretary] had been out and it had been turned into a media circus, and I judged I didn't want to be involved in a media circus and I was wrong, I was absolutely wrong.
"Because one of the things I learned, and I have determinedly done it since then, is that there is no shortcut to understanding and talking to patients and relatives and people, there is no shortcut to it.
"I didn't do it and then I got myself into a tangle of talking to people through the media, and that continues to be a very bad thing.
"That was a mistake that I made that I bitterly, bitterly regret."
'Betrayed'
Sir David announced he was stepping down last year after facing repeated calls to resign over his role in the scandal.
He spent 10 months in charge of the local health authority in 2005 and 2006 at the height of the problems, which led to hundreds of needless deaths.
Soon after that, he was appointed NHS chief executive, before taking charge of NHS England, the body set up under the government's reforms to take charge of day-to-day running of the health service.
Campaigners and MPs had called for him to resign after publication of the public inquiry into the failings, which involved the neglect and abuse of vulnerable patients.
The report published a year ago said the system had "betrayed" the public by putting corporate self-interest ahead of patients.
Sir David initially said he was determined to carry on, but in a letter announcing his retirement in May he said: "Recent events continue to show that on occasion the NHS can still sometimes fail patients, their families and carers."