NHS data-sharing project at risk, say MPs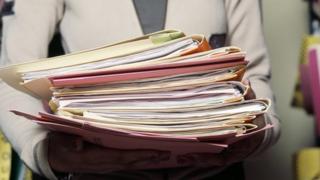 NHS bosses risk undermining "public confidence" in the new data-sharing project, MPs are warning.
Last week it was announced Care.data, which includes collecting GP records, was being delayed amid criticism of the way it had been explained.
Then this week it emerged hospital data, which is already collected, had been given to the insurance industry.
Appearing before the Health Select Committee, NHS bosses were told they needed to get to grips with it.
One of the biggest concerns about the creation of Care.data is that the information could end up in the wrong hands.
The project involves extracting records from GP surgeries and linking them with hospital records before they are made anonymous by a body called the Health and Social Care Information Centre.
'Public confidence'
NHS chiefs have sought to reassure the public by pointing out that the hospital data has been collected for 25 years without a problem.
But on Monday it emerged the Information Centre - or NHS Information Centre as it used to be known - gave that hospital data, which was largely anonymous, to the insurance industry in 2012.
A report was then produced advising insurance and investment firms how it could use the information to price their products.
The Information Centre has now said this should probably not have happened as it should have applied "greater scrutiny" to the application.
But Dr Sarah Wollaston, who is a GP and Tory member of the cross-party group, said: "I'm very disappointed...this threatens public confidence."
Max Jones, director of information and data services at the Information Centre, was repeatedly asked why the data had been released and whether other non-health organisations had been given similar medical information.
He was unable to provide answers, arguing there had been a change in management at the Information Centre after it was re-launched in April 2013 so he was unaware of the detail of the decisions that were taken previously.
He promised to look into it and provide written answers at a later date.
He also said the Information Centre was considering a key change to the Care.data programme that would involve the anonymising of medical records before they leave the GP practice, which in theory would increase security.
At the end of the evidence session, Labour member Rose Cooper said: "It is amazing how many questions we've not got answers [to]."