Teen pregnancy rate 'lower still'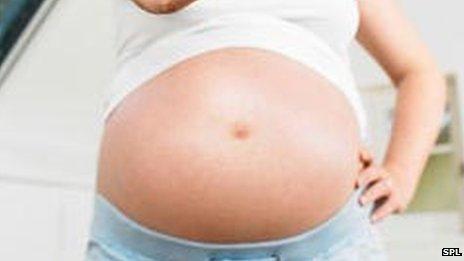 The number of teenage pregnancies in England and Wales has continued to drop, latest figures show.
Office for National Statistics data show the under-18 conception rate is the lowest since 1969 at 27.9 conceptions per 1,000 women aged 15-17.
This is a drop of 10% on the previous year, but experts say it is not enough to bring the UK in line with other western European countries.
At the same time, the conception rate among women over 35 has been rising.
Since 1990, the conception rate for women aged over 40 has more than doubled from 6.6 to 14 conceptions per 1,000 women.
The data also revealed a continuing rise in the number of pregnancies and births outside marriage.
Ann Furedi, chief executive of the British Pregnancy Advisory Service, said: "These statistics demonstrate the trend towards older motherhood is continuing.
"We see many younger women who are choosing to postpone starting their family for a number of reasons - some have not met the right partner, whereas others want to wait until they have greater financial security, a home of their own, or progressed further in their chosen career.
"It is important that reproductive healthcare services, whether providing contraception, abortion or maternity care, reflect this shift.
"While pregnancy and childbirth for older women may present particular challenges, with some mothers requiring additional support, the answer is to provide the services that they need, rather than attempt to cajole women into having children earlier than they feel is right for them."
Alison Hadley, an adviser to Public Health England on teen pregnancy, said: "Continued investment and dedication over the last 10 years has paid real dividends but the England under-18 conception rate remains higher than other western European countries.
"We need to find ways to both sustain the significant reductions we've made and accelerate progress.
"Evidence and lessons from local areas shows us young people need comprehensive sex and relationship education in and out of school, easy access to young people-centred contraceptive and sexual health services, and targeted support for those most at risk."
Related Internet Links
The BBC is not responsible for the content of external sites.