Ex-M&S boss to advise NHS managers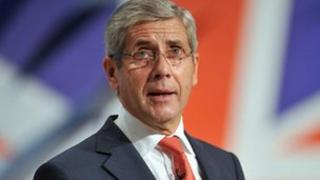 Former Marks and Spencer boss Sir Stuart Rose is to lead a review into how to improve management in the NHS in England.
Sir Stuart will be looking at how managers can improve and become more visible in hospitals.
He has also been asked to look for ideas on how the NHS could attract and retain the best leaders.
It comes as ministers provided an update on the 14 hospital trusts placed in special measures.
The report - drawn up by the regulators - said "significant progress" had been made.
Overall, 650 extra nurses or nursing assistants and 130 extra doctors have been recruited.
There has also been a major overhaul of management, with 49 senior leadership changes taking place.
The report said the first 11 trusts placed in special measures in July were all well on the way to being turned around.
'Leadership'
Health Secretary Jeremy Hunt said it was "critical" the problems at these hospitals were resolved.
"Everyone wants the peace of mind knowing their local hospital offers good care," he added.
He also said the appointment of Sir Stuart, who he described as "one of the country's most inspirational leaders", could play a significant role in stopping hospitals failing in the future.
"The difference between good and bad care can often lie in leadership."
Sir Stuart will not be paid for his work and has been asked to produce a report at the end of the year on his findings.
This will be based on a series of hospital visits where he will act as a mentor to senior managers and explore the leadership challenges the NHS faces.
The former M&S chairman will pay particular attention to the trusts in special measures - as failings in leadership have been highlighted as a key problem.
Sir Stuart said: "Clearly the NHS is a very different institution from M&S, but leadership, motivating staff and creating a culture where people are empowered to do things differently are crucial to the success of any organisation and I'm looking forward to helping in any way I can."
Ministers have also asked one of the leading hospital chief executives - Sir David Dalton from Salford Royal Hospital - to look at how best practice can be shared and how the successful leaders can get involved with the poorest performing hospitals as "super heads" have done with schools.
'Lowest ebb'
Rob Webster, chief executive of the NHS Confederation, which represents hospital trusts, said the combination of Sir Stuart and Sir David could be a "very powerful" combination.
But Christina McAnea, Unison's head of health, said: "Instead of focusing on the cult of the individual, Jeremy Hunt would be better turning his attention to engaging with staff, patients and their families.
"The truth is that the NHS is fundamentally different from the retail sector where customers can shop, when and where they like. Patients come to the NHS when they are at their lowest ebb and feeling very vulnerable."
And shadow health minister Jamie Reed added the government's handling of the NHS was "making care problems more likely, not less".