Deconstructing Saga: Inside the mind of the TV detective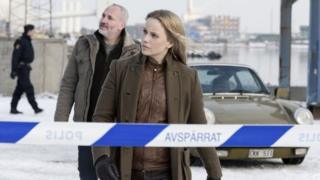 Scandi-drama The Bridge is known as much for the personal life of Swedish detective Saga Noren and her Danish colleague Martin Rohde as for its gritty monochrome crime scenes.
Saga, portrayed by Sofia Helin, struggles to navigate the social rules of the workplace, but is never given a formal diagnosis.
But, according to one British psychiatrist, she appears to fit somewhere on the autistic spectrum disorder (ASD) scale.
Eva Loth, of the Institute of Psychiatry, King's College London, says while she hasn't met a woman with ASD who is quite like Saga, she does think it plausible that someone like her could exist.
"Her portrayal is, overall, very useful because firstly she brings to the public the awareness that there are women who have ASD," says Dr Loth, of the department of forensic and neuro-developmental sciences.
"She does portray well characteristic features that many people with ASD have and struggle with, and she also brings home the message that in high-functioning people with ASD there is an awareness they are different and that they are trying to fit in sometimes to different degrees of success. "
The character has some features often seen in ASD, such as difficulty understanding jokes and irony, or being profoundly honest at the cost of other people's feelings, says Dr Loth, who works on a Europe-wide project looking at biological markers for autism.
But she doesn't have all the features that make up a diagnosis, such as a desire to stick to a particular routine.
"From what I've seen I probably wouldn't give her a whole diagnosis of ASD, but I would recognise autistic-like features," Dr Loth says.
One of the recurring themes in the series is that Saga has great difficulty telling lies. This can be comical - as when she explains to her colleague's wife at dinner that she doesn't care for her cooking - but it can also be extremely uncomfortable for those around her.
The National Autistic Society ambassador Robyn Steward, who has Asperger's syndrome, a form of autism, has sympathies with this.
She says she has had to learn to tell "small white lies" from time to time to cope in social situations.
"People on the spectrum can learn to lie," she says. "Saga has learnt to lie, but she's not good at it."
Ms Steward, who has written The Independent Woman's handbook to super-safe living on the Autistic Spectrum, says Saga is a good role model "for women who are different and for women who are on the spectrum, who may identify with her".
She thinks Saga's co-investigator, Martin, played by Kim Bodnia, is also a good role model, as he helps her cope in the social world.
Saga appears to cope pretty well with everyday life and can do many things most of us can't - she can negotiate with murderers, shoot to kill, and drive at high speed in her vintage Porsche.
But according to Ms Steward, even high functioning people "on the spectrum" are far more vulnerable than people think.
"The social world can be confusing and quite lonely," she says.
The show has avoided giving Saga a diagnosis.
The actress, Sofia Helin, describes her character as having "another way of being intelligent".
"Her EQ [emotional intelligence] is very low and her IQ is very very high."
According to scriptwriter Hans Rosenfeldt, while the media and the audience may have decided she has Asperger's, "we've actually never diagnosed her in the show".
"With Saga and her personality I don't have to write 'jokes', I just let her ask about the things she wants to know and/or have Martin trying to educate her in social behaviour," he writes in a BBC - Blog.
"Or let her be brutally blunt to other human beings."
He says Saga and Martin's characters and relationship are a huge factor in the success of The Bridge.
"I love them and since we're currently writing season three I will have the privilege to stay with them for at least another year."
Follow Helen Briggs on Twitter.