Three-fold increase in UK insulin use, study finds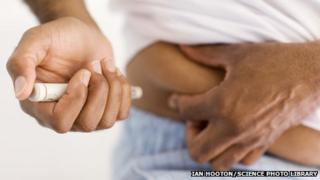 The number of people using insulin to treat diabetes trebled between 1991 and 2010, researchers from Cardiff and Bristol universities have found.
They say the increase is due to a large rise in the number of people with type 2 diabetes using the drug.
But the figures are a "wake-up call" on how the condition is treated, their study says.
Diabetes UK said many people with type 2 diabetes needed to use medication to manage their condition.
The study, published in the Journal of Diabetes, Obesity and Metabolism, looked at the number of patients receiving prescriptions for insulin using data from the Clinical Practice Research Datalink (CPRD).
It found that UK insulin users increased from 136,800 to 421,300, while people with all kinds of diabetes rose from 1.4m to 2.8m.
During the same period, there was an increase in the prevalence of insulin users with a diagnosis of type 2 diabetes from 0.67 to 4.34 per 1,000 population.
The researchers also found that the number of people receiving prescriptions for insulin for type 2 diabetes during the nearly 20-year period, overtook the number of people with type 1 diabetes.
In 1991, more people using insulin had type 1 than type 2 diabetes.
However, by 2010 this situation had reversed with the total number of people with type 2 diabetes injecting insulin increasing from 37,000 in 1991 to 277,400 in 2010.
Prof Craig Currie, lead author of the study and professor of applied pharmaco-epidemiology at Cardiff University, said the findings were worrying and questioned the clinical need for so many people with type 2 diabetes being treated with insulin.
"Insulin is very expensive and some of us believe that it involves too many serious side effects in people with type 2 diabetes.
"The rising prevalence of insulin-use probably reflects both an increase in incidence and longer survival of those who already have type 2 diabetes.
"The increase in the number of people with type 2 diabetes using insulin is a wake-up call for all - not only in terms of lifestyle choices and how we treat people with type 2 diabetes."
Prof Currie added that the financial cost of insulin to the NHS in the UK was estimated to have increased from £159m in 2000 to £359m in 2009.
"In my view, every effort should be made to keep them off insulin. It should only be used a last resort," he said.
Simon O'Neill, director of health intelligence at Diabetes UK, said it was important to remember that insulin was an essential treatment for many people with diabetes.
"Some people with type 2 diabetes are able to manage the condition with physical activity and healthy eating alone when they are first diagnosed but as the condition is progressive most people will eventually also need to use medications, which can include insulin, to help them effectively manage the condition.
"By making sure that people with diabetes are getting the recommended checks and support they need to manage their diabetes, we can help them avoid complications, which are not only a personal tragedy for all of those involved but are also hugely costly to the NHS."