Cancer 'envy' campaign criticised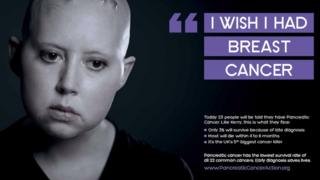 A campaign to raise awareness of pancreatic cancer has been criticised for suggesting patients wish they had other forms of the disease.
The "envy" campaign by Pancreatic Cancer Action shows patients saying they would rather have breast, cervical or testicular cancer.
The charity said it was making the point other cancers have much better survival rates.
But breast cancer charities condemned pitting "one cancer against another".
All cancers 'horrific'
About 8,000 people are diagnosed with pancreatic cancer each year, though many are diagnosed too late for surgery - the only treatment option.
Symptoms can be vague. Early signs can include:
weight loss
stomach pain
jaundice
lack of appetite
back pain
It has a five-year survival rate of 3%, compared with 85% for breast cancer, 97% for testicular cancer and 67% for cervical cancer.
The average life expectancy for pancreatic cancer patients is four to six months.
Ali Stunt, the founder of Pancreatic Cancer Action who has survived pancreatic cancer herself, said: "We are sorry if this campaign upsets anyone and our heart goes out to anyone affected by cancer.
"All types of cancer are horrific and the last thing I would wish on anyone."
But she added: "Our advert is not stating that someone wished they had cancer but rather they wish they could swap pancreatic cancer with a cancer that gives them a better chance of survival.
"We purposely selected cancers for our campaign that have a significantly better survival rate than pancreatic cancer.
Challenge
Macmillan Cancer Support backed the campaign.
Prof Jane Maher, its joint chief medical officer, said: "Survival rates are particularly poor for pancreatic cancer, in part because its signs and symptoms are very hard to spot.
"We must ensure more people are diagnosed at an early stage to give them the best possible chance of recovery."
But Chris Askew, chief executive of Breakthrough Breast Cancer, said: "We strongly dispute any message which suggests that one type of cancer is preferable to another.
"We believe Pancreatic Cancer Action's recent campaign does just this.
"I've yet to meet a man or woman with breast cancer who would consider themselves in any way fortunate to have received a diagnosis."
"We all need to do more to raise awareness of signs and symptoms of many cancers and the importance of early diagnosis."
And Samia al Qadhi, chief executive at Breast Cancer Care, said: "It is unhelpful to pit one cancer against another.
"Most of us know someone who has been affected by this dreadful, life-threatening disease and know the impact it can have on those affected and their loved ones.
"Unless you have experienced it yourself, it's impossible to fully understand the huge challenge faced by women who every day wake up to the brutal reality of breast cancer.