Hospital admissions for eating disorders up 8%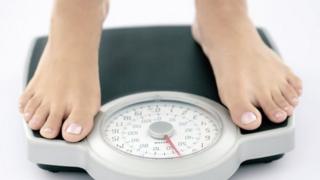 Hospital admissions for eating disorders rose by 8% in England from 2012 to 2013, official figures show.
The data, from the Health and Social Care Information Centre, showed there were 2,560 admissions.
That compares with 2,370 in 2011-12 - which was a rise of 16% on the previous year.
The eating disorder charity Beat said the figures were "just the tip of the iceberg" as many people did not seek treatment.
Nine times as many females as males were admitted in 2012-13 with an eating disorder.
The most common age for female admissions was 15, and for males it was 13.
One in five of those taken into hospital with an eating disorder was admitted and discharged on the same day.
But one in 17 stayed in hospital for longer than six months.
The regions with the highest admission rates for eating disorders, of 6.5 per 100,000, were the North East and South West, while the West Midlands had the lowest rate of 3.5 per 100,000.
'Host of reasons'
Kingsley Manning, chairman of the HSCIC said: "Today's report shows a national increase in the demand placed on hospitals by patients with an eating disorder.
"Hospitals not only dealt with more patients with an eating disorder than last year but, compared to other admission types, patients with these disorders tend to stay longer in hospital, which will be of significant interest to staff caring for these patients and and those planning services."
A spokeswoman for Beat said: "We find the increase worrying and also just the tip of the iceberg. The figures only show in-patient admissions - we know that the majority of individuals are treated as outpatients within their community as well as in private treatment centres - or worst still, not treated at all."
She said a greater awareness of eating disorders and the treatment available may mean more people were coming forward.
But she added: "The likelihood is that more people are becoming ill. We know that the development of an eating disorder is extremely complex and doesn't just include one factor but may be a whole host of reasons.
"One of these factors is the pressure of society which is affecting a wider range of individuals."