Ex-Stafford Hospital chief nurse struck off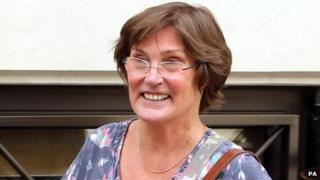 The most senior nurse to be disciplined as part of the Stafford Hospital scandal has agreed to be struck off the nursing register.
Janice Harry, who was director of nursing, had been given a five year caution for failings in her role.
She was accused of bullying colleagues and endangering patients' lives with inadequate staffing levels.
Harry, now retired, reached an agreement with the nurses watchdog the NMC to be taken off its register.
This means she will no longer be permitted to work as a nurse in the UK.
Her case had been referred by the NMC up to the Professional Standards Authority (PSA).
Ms Harry has denied a series of charges related to alleged failures to ensure adequate nursing staffing levels and appropriate standards of record keeping, hygiene and cleanliness, administration of medication, provision of nutrition and fluids and patient dignity.
She also denies accusations of bullying staff who raised problems with her - allegedly creating a "stressful and unpleasant" atmosphere which discouraged staff from reporting problems.
The Stafford Hospital scandal first came to national prominence following the publication of a report by the Healthcare Commission in March 2009.
The regulator criticised the hospital for its "appalling" standards.
The investigation was prompted by complaints and statistics showing more people were dying than would be expected.
Jackie Smith, chief executive of the Nursing and Midwifery Council said: "We are pleased to confirm a legal agreement has been reached between the NMC, Professional Standards Authority (PSA) and Janice Harry, which will lead to her being struck off the nursing register.
"We had previously raised concerns about the sanction imposed by an independent panel in November 2013, and took immediate steps to refer it to the PSA for review.
"The case raised important issues about the responsibility of nurses who hold senior management positions and their duty to ensure the protection of the public."