Are your medical records in danger?
Nick Triggle
Health correspondent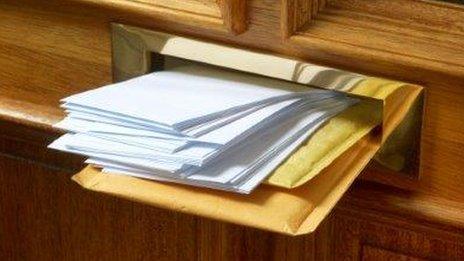 Householders across England have started receiving leaflets about a new NHS scheme called Care.data.
The likelihood is most people will simply cast the documents in the bin along with the take-away menus and double-glazing offers.
But to some the data-sharing project represents an attack on privacy and confidentiality. Should we be concerned?
Care.data, when it is ready in the early summer, will effectively be an anonymised medical database which will include details of every NHS patient - unless you opt out.
NHS England, which has commissioned the Health and Social Care Information Centre to run the project, argues the system will make medical advances easier by allowing researchers to investigate drug side effects and enable greater monitoring of performance in the health system.
To date, the NHS has provided access to anonymised records, but that has been solely limited to what happens in hospitals.
As a result, there has been virtually no information about the care given by GPs and elsewhere in the community or the sort of drugs patients have been given before they reach hospital.
For those who rely on this information, it is said to be like looking at a jigsaw puzzle with half the pieces missing.
For example, cancer survival in England has tended to lag behind other western countries. That could be down to late diagnosis, poor GP referral practices or inadequate treatment - but no-one really knows.
Having information about this joined-up patient journey could provide the answer.
Yes, but there is a controversial element.
At the moment, the database will only be open to NHS bodies.
But there is a proposal - to be discussed at a meeting in March - that will allow it to be made available to non-NHS groups, such as drug companies.
The fear is that as the information contains so much data it will in theory be possible to identify some patients.
And as some drug companies also have health insurance arms, it is easy to understand why this could be a problem with fears being raised about increased premiums and targeted marketing.
There are laws strictly prohibiting trawling data to join up the dots.
However, there is still uneasiness about the issue.
To date, both the British Medical Association and Royal College of GPs have remained largely supportive.
But that does not mean there is not some concern within the medical community.
A recent survey of 400 doctors by the GP magazine Pulse found nearly half were unhappy about the plans.
This is because GPs will be handing over the raw data, which includes NHS numbers, date of births, postcodes, genders and ethnicities.
They will then have to leave it up to the Health and Social Care Information Centre to link it up with the hospital side before anonymising it.
This is the first time such records have been released like this from the safety of a GP surgery.
'Illegal and unconstitutional'
MPs have also started showing an interest.
An early day motion has been tabled by Roger Godsiff, the Labour MP for Birmingham Hall Green. He has suggested there should be "no faith" in the official guarantees of anonymity.
So what should the public do?
NHS England's chief data officer Dr Geriant Lewis believes the fears are unfounded.
"If you believed everything you read about this, you would think the NHS was either about to give away everyone's confidential data free of charge or flog it to the highest bidder.
"Needless to say, we are doing no such thing: to do so would be unethical, illegal and unconstitutional."
But he adds people do have a choice, pointing out the leaflet arriving on the doormat contains information about the project and the and the options open to patients - including how to opt out.
Just don't throw it away.