Magnet rods straighten curved spines, say guidelines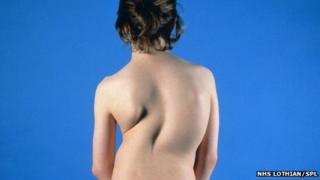 Children with crooked backs could benefit from a new treatment that uses magnetic rods to straighten the spine, say draft guidelines for England.
The National Institute for Health and Care Excellence says it is a useful alternative to conventional rod therapy, which requires more surgery.
Normal metal rods can only be lengthened in the operating theatre under general anaesthetic.
But the magnetic rods can be adjusted in a clinic using a remote control.
Magnets in the remote control communicate with magnets in the implanted rods, allowing the doctor to lengthen the scaffold non-invasively.
This means the patient should only require a couple of operations - one to put in the rods and another to remove them at the end of the treatment, and none of the "lengthening" surgical procedures normally carried out every six months or so in between.
Scoliosis - a condition where the spine curves abnormally to one side - affects three to four children out of every 1,000 in the UK.
In most cases, no treatment is needed because the spine will correct itself as the child grows.
Others may need to wear a back brace to keep their spine straight as they grow.
And some will need rod surgery.
Laura Counsell, of the UK Scoliosis Association, said: "This has the potential to take away some of the upsetting parts of the rod treatment".
"Children can build up quite an aversion to going to hospital every six months or so for surgery."
The magnetic rods meant children could, instead, be "in and out" of a clinic for their adjustments, she said.
"It's good, but we would still counsel caution," she added.
"It's a new technology, so it's early days.
"It's suited to a specific group of children, so it's not a magic pill."
NICE suggests that magnetic rods could be used in eligible patients aged between two and 11.
Jane Clarke, expert patient adviser on the NICE guideline panel, whose grandson Rhys, 10, is being treated with the magnetic rods, said: "The rods have already saved Rhys about three operations.
"He needed one operation to fit the rods in May 2012, but hasn't needed any since then.
"That means no extra scars and no cannulas [tubes], which he would hate."
She said Rhys did not mind having his rods lengthened in clinic.
"He laughs because the magnets tickle his back," she said.
"The extension itself can be a bit uncomfortable, but not painful.
"And soon after he's jumping around again."