Trusty stethoscope faces threat from portable hi-tech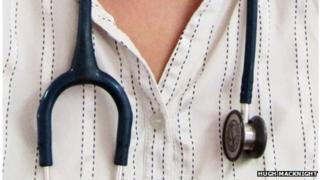 In TV medical dramas, doctors and nurses are never without one. At the surgery, it is the GP's best friend.
Along with the white coat, the stethoscope is among the most recognisable symbols of the medical profession.
But according to an editorial in the journal Global Heart this week, the stethoscope is in its death throes, in danger of being consigned to medical history, having been overtaken by technology.
So are the stethoscope's days numbered?
Used to listen to the internal sounds of the human body, particularly the heart, lungs and abdomen, the stethoscope has been around for nearly 200 years.
Over that time, it has changed little, apart from a change from one earpiece to two earpieces in the 1860s.
Small and smart
However, Prof Jagat Narula and associate professor Bret Nelson, from Mount Sinai School of Medicine in New York, believe that handheld ultrasound devices are set to take over from the traditional stethoscope.
They say this is because ultrasound technology is becoming more accurate, the devices are reducing in size and their cost gradually decreasing.
They write: "Several manufacturers offer hand-held ultrasound machines slightly larger than a deck of cards, with technology and screens modelled after modern smartphones."
They say these would allow doctors to diagnose illnesses quickly, particularly in emergencies, reduce complications and guide them when doing invasive procedures.
Using the ultrasound screen, doctors can see images of heart activity that could be sent ahead to a hospital A&E, they suggest.
Although point-of-care ultrasound is a new field and many clinicians have not been trained how to use it, the authors give examples of how the technology can be used fully in harsh environments, such as combat support hospitals, refugee camps and after disasters such as the Haitian earthquake in 2010.
They conclude: "Certainly the stage is set for disruption; as LPs were replaced by cassettes, then CDs and MP3s, so too might the stethoscope yield to ultrasound."
Listening skills
In the UK, cardiologists are adamant that the stethoscope will not be replaced.
Dr Sarah Clarke, a consultant cardiologist at Papworth Hospital in Cambridge and vice-president of the British Cardiovascular Society, says the stethoscope is a doctor's main diagnostic tool.
"We don't leave home without it. You can't replace what you hear if you're a doctor. It's a big part of our training.
"We are taught to listen to everything in a patient examination and put it all together, alongside what the patient is telling us.
"A picture isn't enough. You've got to put it into context. A handheld ultrasound doesn't give you the same level of diagnostic information or the same detail.
"The skill is in interpreting what you hear, in listening to the heart and the lungs which are key in diagnoses."
Dr Clarke says that a doctor may decide to do an ultrasound on a patient - using a large machine, not a handheld one - but only after listening to the heart and lungs using a stethoscope.
She adds: "The stethoscope is our first port of call, the main tool in our toolkit. That won't change."