Clegg attacks NHS mental health care
By Michael Buchanan
BBC News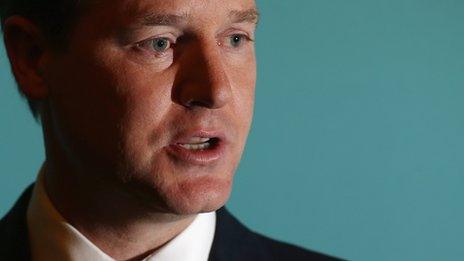 Nick Clegg has launched a strong attack on how the NHS treats mental health patients.
In a BBC interview, the deputy prime minister said it was "just plain wrong" to treat the illness as the "poor cousin" of physical health in the NHS.
There remains, he says, "too much prejudice, too much discrimination" around the issue.
Mr Clegg was speaking ahead of a major conference at which the government will unveil its mental health strategy.
A poll from the charity, Time To Change, highlights some of the problems faced by patients.
Its survey of almost 5,000 people with mental health problems found:
More than half said that stigma and discrimination associated with mental health was as bad or worse than the illness itself
More than a quarter waited for over a year to tell their family about their problem
Nearly a quarter of young people said discrimination and stigma stopped them going to school
Mr Clegg said: "There is too much ignorance, too much prejudice, too much discrimination.
"We've got to take this out of the shadows."
In an effort to do that, Mr Clegg is chairing a major conference on Monday in which he will unveil the government's mental health strategy.
Among the initiatives will be efforts to make it easier for people to continue to access mental health services once they reach adulthood.
At the moment, many young people with mental health illnesses have difficulty getting support once they reach 18.
Recent reports by BBC News and the online magazine Community Care have highlighted hospital beds being reduced and budget cuts for mental health trusts.
The deputy prime minister said both developments were "unacceptable".
"It is just plain wrong to treat mental health as the poor cousin to physical health in the NHS.
"There are too many parts of the country that have suffered for too long with commissioners in the NHS not providing mental health services with the same support as other parts of the NHS."
The government has made parity of esteem between physical and mental health a legal obligation in the NHS, but Nick Clegg admitted that getting true equality between the two would take time.
Marjorie Wallace, Chief Executive of the mental health charity SANE, said: "While we continue to close down psychiatric beds and the need and demand for psychiatric services increases, mentally ill people will remain in the shadows."
Related Internet Links
The BBC is not responsible for the content of external sites.