Pressure is growing on new health bodies to deliver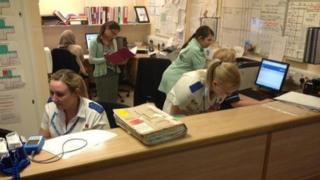 When voters come to judge the coalition, one of the key tests will be what has happened to the NHS.
The government has pushed through a radical overhaul of the way the health service in England is run.
Central to this was the idea of handing power to doctors, giving them responsibility for local budgets, and the freedom to shape services.
Now, nearly a year after the changes came into force, arguments over their record are intensifying.
There are more than 200 clinical commissioning groups, or CCGs, across England, responsible for over £60 billion a year.
Every GP practice has to belong to one, and some GPs are involved in running them.
They formally took over from primary care trusts (PCTs) last April. Their work includes identifying local health priorities and buying services for NHS patients.
The idea was to harness clinical expertise, in particular GPs' knowledge of their patients' needs, while cutting waste and bureaucracy
The change was hugely controversial, coinciding with an unprecedented squeeze on NHS budgets.
Critics argued the reforms were a waste of time and effort when the service needed to focus on frontline services.
Now, nearly a year on, CCGs say they are building a record of success.
Their membership body, NHS Clinical Commissioners has published a report with 15 case studies which, it argues, demonstrate how they are changing peoples' lives.
'Expert diagnosis'
They include a scheme in Oldham where the CCG is supporting a scheme to protect vulnerable patients who need new boilers and wall insulation.
In Corby, the report says, the CCG has set up an urgent care centre, equipped with X-ray and ultrasound, relieving pressure on the A&E in Kettering eight miles away.
And in Worksop, at Bassetlaw Hospital, there is a new assessment and treatment centre providing seven-day consultant care.
The refurbished unit, facing out over the town's rooftops, has 24 beds for patients admitted as an emergency. There are also treatment and consulting rooms, and a space for regular outpatients.
The chairman of the local CCG, Dr Steve Kell, says he and his colleagues wanted to address two key concerns common to many hospitals.
"Generally the patients waited too long for diagnoses and investigations, and also we know over the last 20 years, in every country, patients die more often at weekends if they're admitted."
Two years ago the CCG - then working in "shadow" form - agreed a plan with hospital doctors and managers to set up the centre, providing early expert diagnosis, quick access to scans and investigations, and prompt treatment. The unit works closely with community staff and social services to help patients home.
Death rates down
The report says the average length of stay for these patients has fallen from almost eight days to six and a half, and mortality rates are down by more than 20%.
Dr Kell says people often tell him how much their experience in the hospital has improved.
"I see patients all day who reflect on the difference, particularly people who are used to going into hospital frequently with long term conditions".
But some argue the improvements could have been delivered under the old NHS system, without the need for creating CCGs.
They say in the tight financial climate CCGs have focussed on driving through cuts rather than developing new services.
Dr Ian Campbell, a GP in Nottingham and former Labour candidate, is a long-time critic of CCGs.
"GPs have been compelled into being complicit with policy decisions which inevitably put patient safety at risk.
"What we're seeing is delays in referrals, second thoughts about patient admissions, and ultimately that is leading us to take a greater risk. And somewhere along the line patients are going to suffer."
The chief executive of the health think-tank the Kings Fund, Prof Chris Ham, says CCGs have produced some good local initiatives - but he argues they haven't generally tackled the key question of where hospital services should be based in the future.
He argues financial constraints and limits on their powers mean the reality of their role is far removed from the original vision set out by the coalition.
And he warns of tough times ahead.
"Increasingly CCGs will find themselves in the position of having to ration - about how to use increasingly scarce resources between competing needs and demands.
"It was said at the outset the CCGs were being handed a poison chalice. I think the poison will become more evident as time goes on."