Angioplasty and its revolutionary impact over 50 years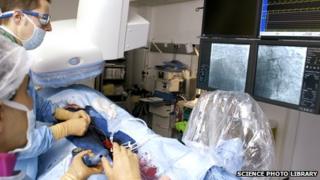 In the 1960s patients with a blocked artery would have required major open surgery and a hospital stay of a week or more.
Half a century on, patients are treated in a matter of hours and return home the same day - and it's all thanks to the angioplasty procedure.
Dr Duncan Ettles, president of the British Society of Interventional Radiology and a consultant vascular radiologist, says it has had a revolutionary impact on medicine.
"It was a complete change in the way people were going to be treated. You cannot underestimate the impact of these minimally invasive procedures."
Instead of opening up blood vessels to remove a blockage, doctors can access and treat them simply by inserting a catheter into an artery and following its movements on an X-ray screen.
Current angioplasties involve a balloon attached to the catheter being inflated or a stent expanded to hold the artery open, which allows the blood to flow more easily.
It is less traumatic, less risky and more patient-friendly, says Dr Ettles, who has performed thousands of angioplasties since the 1980s.
Now the procedure is used to treat blockages and narrowed arteries in the heart, kidney, brain and leg, and it has also expanded into other areas of medicine, such as cancer treatment.
It has often reduced the need for traditional surgery.
Dr Ettles says there are many situations when the technique can save lives.
"If a woman is bleeding badly after giving birth we can take her into the angio room, find the tiny blood vessel that's causing the bleeding and block it off quickly."
The angioplasty has developed as a procedure over the years too, he explains.
"Everything has been miniaturised. Some catheters are now less than 2mm in diameter.
"We can collapse devices down to get them into the body and then open them up again at the precise point where treatment is needed, and it's all thanks to micro-technology.
"We can also coat the balloons with drugs and take those drugs to specific parts of the body.
"It's more than just a mechanical treatment now."
World first
Yet without the bravery and foresight of one US doctor in 1964, the angioplasty may not have become the effective procedure it is today.
Laura Shaw, 82, had been advised that a blocked artery in her leg would mean her foot had to be amputated.
Dr Charles Dotter, working at the University of Oregon Hospital, had other ideas. He removed the blockage in her femoral artery using nothing more than a piece of tubing made from Teflon, inserted into the body via a blood vessel punctured with a needle.
Blood flow was restored to the patient's painful left foot using the Teflon catheter to access the offending artery.
Since then, countless blood vessels have been opened and many painful and risky operations have been avoided.
In the UK alone each year, 75,000 coronary angioplasties are carried out, while around the world Dr Dotter's medical first has led to 60 million angioplasties in the last 50 years.
Maureen Talbot, senior cardiac nurse at the British Heart Foundation, says for people with coronary artery disease and those at high risk of a heart attack, angioplasties can be very effective.
"They offer immediate diagnosis and treatment for those having a heart attack and they can prevent or reduce the risk of having a heart attack in the future."
The care patients receive after the catheter is removed means they require less rest and can return home the same day, making it a very routine procedure.
But there is always a risk that it might not work for everyone, she says.
"For the vast majority it works very well; there is a tiny risk that it might be unsuccessful, but for only one or two people a year."