UK cancer diagnoses top 330,000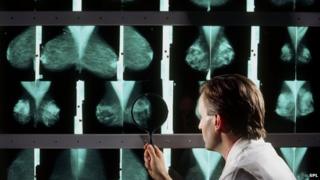 Nearly a third of a million people are being diagnosed with cancer each year in the UK, according to the charity Cancer Research UK.
It says around 50,000 more people are finding out they have cancer every year than a decade ago.
The rise is due to more people living to a ripe old age.
Meanwhile, research by the University of Exeter suggests patients want cancer symptoms to be checked out more quickly than NHS guidelines recommend.
Age is the biggest risk factor for cancer.
And as life expectancies have increased in the UK, so too has the number of people being diagnosed with cancer.
In 2001, 283,000 people were told they had cancer. This increased to 331,000 in 2011.
'Devastating impact'
Dr Harpal Kumar, chief executive of Cancer Research UK, said: "As the population ages, more people than ever before will be told, 'You have cancer'.
"Research is the only way we'll be able to reduce the devastating impact of the disease. One day we will beat cancer. The more research we do, the sooner that day will come."
The World Health Organization says the number of people being diagnosed around the world each year leapt to more than 14 million in 2012, up from 13.7 million in 2008.
Breast cancer is one of the commonest types.
Eluned Hughes, of Breakthrough Breast Cancer, says: "Breast cancer is not a done deal and, as increasing numbers of people face the possibility of one day being told they have breast cancer, this is exactly why it is imperative that we continue our research."
Meanwhile, a study on 3,649 people, published in the Lancet Oncology, suggested patients wanted any symptoms linked to cancer to be checked as quickly as possible for peace of mind.
The researchers say patients often need to have a one-in-20 chance of having cancer, based on their symptoms, before further tests to identify a tumour.
'Strong preference'
The study suggests the majority of patients want to be checked out when there is a one-in-100 chance of cancer.
Dr Jonathan Banks, of the University of Bristol, said: "This large study provides a clear and comprehensive account of public preference for investigation for cancer.
"It shows for the first time that there's a strong preference for diagnostic cancer testing, even if the risk is very low.
"This desire far exceeds what is actually being offered by the NHS, and we hope the findings can help policymakers and doctors in shaping guidelines and practice."