Patient data to be collected from GPs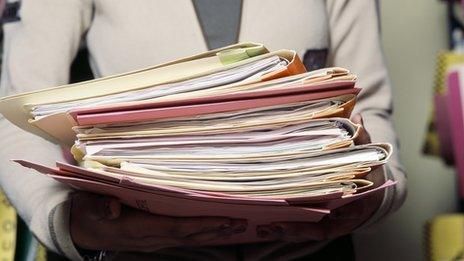 The NHS in England is to start collecting data on patient care by GPs for the first time.
Hospital data is already collected but the NHS says extending the initiative to general practice means it will be possible to get a fuller picture.
Personal details will not normally be shared outside the NHS.
But some approved medical researchers may have access, in some circumstances.
Anyone who does not want their information used can talk to their GP, and those who have questions about how the data will be used, can call the information line on 0300 456 3531.
Households in the North of England will receive their leaflets this week, with the rest of England to follow during January.
The NHS treats millions of people every week, and the data - which will be collated by the NHS Health and Social Care Information Centre (HSCIC) - can offer a picture of the illnesses they have, their treatments and experiences.
Analysing trends can help plan health services in the future at national and local levels.
Dr Mark Davies, medical director at the HSCIC said the centre was a "safe haven" for data.
"We want everyone to feel confident that their information is kept private and used in non-identifiable form to improve the quality of health and social care for everyone.
"Equally important is that everyone knows that they have a choice and can raise an objection by simply talking to their GP."
Dr Geraint Lewis, chief data officer at NHS England, said: "The NHS has been collecting information like this from hospitals for decades but until now we've been missing information about the quality of care provided outside hospital.
"This initiative is about upgrading our information systems to get a more complete picture of the quality of care being delivered across all parts of the NHS and social care."
Dr Tony Calland, chairman of the British Medical Association's medical ethics committee, welcomed the leaflet campaign.
"The BMA is extremely pleased that NHS England is raising awareness about changes to the way patient data is handled in the NHS," he said.
"It is vital that people are fully informed about what their data will be used for and how they can object to its use if they wish to."
Dr Imran Rafi, of the Royal College of GPs, added: "It is important that patients understand how the NHS uses and shares their information, and that they feel they have been given a proper choice to participate. The spin-off is the potential for all NHS patients to benefit ."
Related Internet Links
The BBC is not responsible for the content of external sites.