Breast implants register aimed at cleaning up industry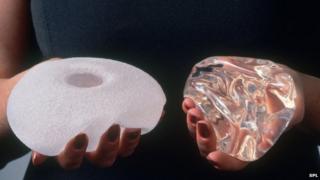 Every breast implant operation in England is to be recorded on a new register, ministers have announced.
A lack of records meant some surgeons were unable to tell their patients if they were affected by the recent scare over sub-standard PIP implants.
Ministers said they were cleaning up a "cowboy industry" steeped in "murky practices".
Health ministers in Wales, Scotland and Northern Ireland will decide if they are to join the register.
Fresh efforts will also be made to regulate adverts to end the era of "win a boob-job" competitions.
The cosmetic procedures industry has been quietly booming. It was worth £750m in the UK in 2005, £2.3bn in 2010 and is forecast to reach £3.6bn by 2015.
However, the PIP implant scandal led doctors to describe the field as a poorly regulated "crisis waiting to happen".
The French company Poly Implant Prothese sold faulty implants containing sub-standard silicone gel with double the rupture rate of other implants.
It caused a global scare affecting 300,000 women.
'Data-free zone'
A review described the UK as a "data-free zone" with a serious lack of records about which women had been given PIP implants or what had happened to them.
The NHS and some private companies will trial a new system for registering implants, similar to the National Joint Registry for hip operations, before making it compulsory across England.
Dr Dan Poulter, health minister for England, told the BBC: "The PIP implant scandal has shone a light on what is sometimes a cowboy industry where there are some murky practices.
"What we need to do is more effectively track the quality of implants women receive and to make sure that when things go wrong with those implants, that can be acted on as quickly as possible - setting up a register will help us to do that."
The Department of Health also said it was working with the Advertising Standards Authority (ASA) to tackle "irresponsible marketing" such as buy-one-get-one-free deals and competitions for men to "win a boob-job" for their girlfriends.
The ASA has already banned adverts from companies advertising "Boob jobs - more affordable than you may think" for "trivialising breast enhancement surgery".
Dr Poulter said: "That sort of marketing is irresponsible because it can change the way a woman looks for the rest of their life and we need to see greater responsibility from the cosmetic industry in how they advertise themselves and we're going to clamp down."
'Early warning system'
The Royal College of Surgeons will also create new qualifications and professional standards for cosmetic surgery.
Rajiv Grover, consultant plastic surgeon and president of the British Association of Aesthetic Plastic Surgeons (BAAPS), said: "Whilst we're pleased there is to be a clampdown on time-linked incentives that place undue pressure on the public, we continue to call for an outright ban on all advertising of medical procedures.
"People considering cosmetic surgery have a lot to think about: possible risks, their own expectations, the qualifications of the provider, recovery - whether there's a Christmas sale, a two-for-one if they book by Friday... should never play a part in a sensible decision-making process."
Vicky Ashton, who had PIP implants and is part of a campaign group for those women affected, told BBC News changes in the industry were not coming "far enough fast enough".
"What is taking the government so long and why on earth are they just piloting this scheme? It should have been rolled out months and months ago, and everybody should be forced to take part in it."
She added: "My main concern is this is great going forward, but what about the women that are affected now - what [is the government] doing for them?"
Mr Simon Withey, a consultant plastic surgeon and part of the panel which reviewed the industry, told the BBC: "The rhetoric is it's a cowboy industry. It's not. Most surgeons are excellent, but it doesn't take many poor ones to wreak havoc."
He said a breast implant register was "exactly the right thing to do".
"It acts as an early warning system of product failure which would have been helpful in PIP and it is now critical that if there are any product failures in the future that we can track patients as quickly as possible."