Hospital food 'needs legally-binding standards'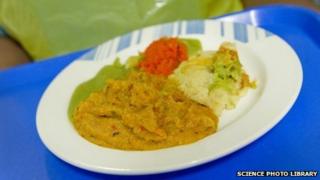 A leading campaigner is calling for the NHS in England to introduce legally binding standards for hospital food.
Writing on the British Medical Journal's website, Katherine Jenner, chair of the Campaign for Better Hospital Food, says the existing voluntary system is not working.
The government is carrying out a review of hospital food.
But it is not supporting a private member's bill currently in the Lords which calls for mandatory standards.
The bill, introduced by Lady Cumberlege, requires the health secretary to ask a body of experts to draft mandatory food standards for hospitals. The Care Quality Commission would then be asked to check these standards were being met.
It is being backed by 98 organisations supporting the Campaign for Better Hospital Food.
'More salt than a Big Mac'
Concerns over hospital food standards have been raised many times.
Most recently the Francis report, published following the inquiry into events at Stafford Hospital, highlighted the need to improve hospital food standards among its 290 recommendations.
Ms Jenner claims governments have wasted more than £54m of taxpayers' money on 21 "failed voluntary initiatives" to improve hospital food since 1992 - which she claims could have paid for 34 new hospital kitchens.
A survey by the campaign group suggested three out of every four hospital meals would qualify for a red light under the Food Standards Agency's traffic light model because they were high in saturated - and that 15 of the 25 meals surveyed contained more salt than a Big Mac.
Writing in the BMJ, Ms Jenner says: "Most British public sector institutions already have to adhere to mandatory standards for the meals they serve, including mandatory nutritional standards for school food and the food served in hospitals in Wales and Scotland.
"Several nutritional and environmental standards apply to foods served in government departments and prisons.
"So why are there no mandatory standards in English hospitals?"
Food miles
Some hospitals have their own food standards.
Nottingham University Hospital Trust has said it saved £2.50 per day per patient, and cut its food miles total by around 150,000 food miles a year, by switching to fresh local ingredients.
The trust says that the NHS could make a national saving of £400m a year if the same standards were implemented throughout the health service.
Ms Jenner adds: "I am not asking for standards that you would find in a Michelin starred restaurant; rather, healthier and more nutritious food with less salt and saturated fat that is sustainable, with higher animal welfare standards and fair trade."
Health minister Dan Poulter said while there were good examples of hospital food, there was too much variation.
"We support the principle of national food standards but do not agree that legislation is the right way to proceed. The best decisions on hospital food are those taken locally by chefs and catering managers, working with patients."