10,000 children living with cancer 'need more support'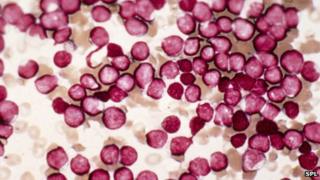 There are 10,000 children under 14 living with cancer in the UK, say Macmillan Cancer Support and the National Cancer Intelligence Network, which looks at national cancer numbers.
Macmillan says this is the first time this group has been quantified.
The figures suggest more boys are affected than girls and the most commonly diagnosed children's cancer is leukaemia.
Children with cancer need more support after treatment ends, the charity says.
The figures were calculated using information collected by cancer registries and the National Cancer Data Repository from 1991-2010 for England, Scotland and Wales and 1993-2010 for Northern Ireland.
They show that around 1,000 under-14s are diagnosed with cancer each year in the UK and with many of those surviving for five years or more, Macmillan and the NICN estimate that 9,936 are currently living with a cancer diagnosis.
Roughly 20% more boys than girls get cancer, which equates to 5,428 boys and 4,508 girls with cancer in the UK.
Although survival rates for childhood cancers have improved significantly in the past 40 years in line with improving treatments, children who survive can have an increased risk of other health issues, such as growth and development problems, and heart and lung conditions.
They can also sometimes be at risk of developing secondary cancers.
'Lost in system'
Macmillan says child cancer survivors can also find it difficult to fit in at school because of their experience.
A survey of more than 200 parents of children with cancer found that 18% said their child lost confidence or was anxious about returning to school after their cancer treatment.
Ciaran Devane, chief executive of Macmillan Cancer Support, said that the impact of cancer "does not stop when treatment ends".
"More must be done to support the thousands of children living with cancer in the UK. Far too often they end up lost in the healthcare system and are not receiving appropriate and timely follow-up care.
"Adult specialists and GPs need to know how to manage the side-effects and lifestyle changes that can affect those treated as children."
Dr Michael Peake, clinical lead for the National Cancer Intelligence Network, said: "To my knowledge this is the first time such data have been available in the world and it certainly quantifies the burden children with cancer and their families have to bear."
He added: "It will also help support the NHS to plan how it should deliver the optimum level of expert care for these children as they grow up."
Dr Sarah Hazell, Cancer Research UK's science communications officer, said almost three-quarters of children diagnosed with cancer were now cured, an increase from around a quarter in the late 1960s.
"But more needs to be done to ensure all children survive, and that we continue to work towards making treatments better and kinder.
"At Cancer Research UK we are currently supporting 23 different trials into children's cancer to make this happen. As more and more children survive, it is especially important that we improve their quality of life after cancer."