Breast cancer: Drug 'halves' risk of tumours
By James Gallagher
Health and science reporter, BBC News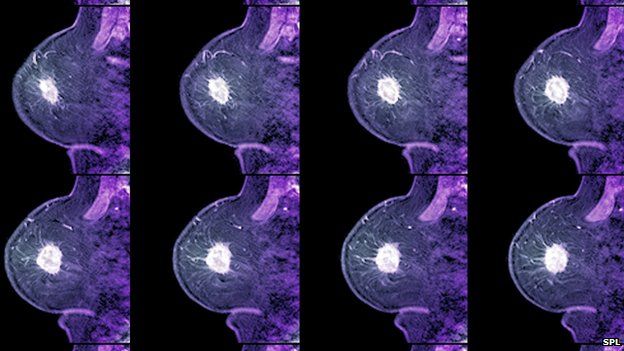 A "landmark study" shows a drug can more than halve the development of breast cancer in high-risk women.
A trial on 4,000 women, published in the Lancet, showed anastrozole was more effective, cheaper and had fewer side effects than current medications.
It stops the production of the hormone oestrogen, which fuels the growth of the majority of breast cancers.
Doctors and campaigners are asking health services to consider offering the drug to healthy women.
Some countries already offer the drugs tamoxifen and raloxifene to prevent breast cancer.
They both block oestrogen activity, however, they also increase the risk of cancers of the womb, deep vein thrombosis and hot flushes.
Aromatase inhibitors, such as anastrozole, stop oestrogen being produced in the first place and are already used as a treatment for breast cancer.
The study at Queen Mary University of London has followed women with a high risk of breast cancer, based on their family history, for an average of five years.
It showed that out of 2,000 high-risk women given no treatment there were 85 cases of breast cancer in the study.
But in the same number of women given anastrozole there were 40 cases, with virtually no side-effects.
Lead researcher Prof Jack Cuzick, who also pushed for the introduction of tamoxifen, told the BBC: "I think this is an exciting moment, breast cancer is by far the most common cancer in women and we have a chance to reduce cases."
He added: "This class of drugs is more effective than previous drugs such as tamoxifen and crucially, it has fewer side effects."
Prof Cuzick said there was now enough evidence to consider offering the drug.
Prof Montserrat Garcia-Closas, from the Institute of Cancer Research in London, who led the world's largest study into the causes of breast cancer, told the BBC: "This is a very significant and very important finding.
"The question now is will it reduce mortality and that will require longer term studies.
"But it adds very important evidence for recommending the drug as an alternative to tamoxifen, we now need to identify those women at highest risk who will benefit the most from this treatment."
Both tamoxifen and anastrozole are cheap as the patents have run out on the drugs. For five years of treatment, tamoxifen would cost £157 and anastrozole £137.
However, anastrozole cannot prevent the ovaries producing oestrogen so it would work only after the menopause. Tamoxifen works both before and after.
In 2013, the National Institute for Health and Care Excellence, in England and Wales, said high-risk women, over 35, should be offered tamoxifen or raloxifene.
The decision affected around 500,000 women. Cancer Research UK estimates that 240,000 of them would be suitable for anastrozole.
Prof Mark Baker, from NICE, commented: "We will certainly consider this research - along with all other available evidence - when the NICE guideline on familial breast cancer is next updated."
But he cautioned that tamoxifen was recommended for just a "relatively small percentage" of people so far.
Dr Caitlin Palframan, the head of policy at the charity Breakthrough Breast Cancer, commented: "The challenge will be ensuring drugs like these are actually offered on the NHS, as many eligible women still don't have access to the risk-reducing treatments already recommended in national guidelines. "
Kate Law, the director of clinical research at Cancer Research UK, which part funded the study, said: "This landmark study shows that anastrozole could be valuable in helping to prevent breast cancer in women at higher-than-average risk of disease.
"We now need accurate tests that will predict which women will most benefit from anastrozole and those who will have the fewest side-effects."