Obesity falls in English schools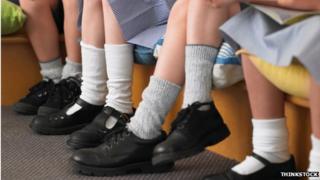 The number of obese and overweight children in the final year of primary school in England has fallen for the first time in six years.
A third (33.3%) of pupils aged 10-11 measured in 2012-13 were obese or overweight, compared with 33.9% the previous year.
The number of obese and overweight children also fell in reception (age four to five) for the second year.
The National Child Measurement Programme was set up in 2005.
Data shows the proportion of obese or overweight children in reception classes is slightly lower at 22.2% than in the previous year (22.6%).
It is also the first time that children who were measured in the first year of the programme when they were in reception in 2006-07 have been measured a second time when they are now in year 6.
"The first drop in obesity prevalence among year six stands out, although we will need to see what the numbers say in future years to determine if this is the start of a decline or more of a blip," said Kingsley Manning, chair of the Health and Social Care Information Centre.
Prof Kevin Fenton, national director for health and wellbeing at Public Health England said: "This provides us with a clear picture of the scale of child obesity in England, which we use to inform priorities and actions around tackling child obesity.
"The data also helps local authorities to understand how child obesity affects their local population and determine what actions they can take on a local level."