Many cancer patients 'not referred to specialist by GP'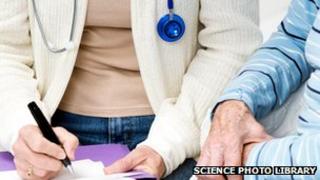 Thousands of people who go on to be diagnosed with cancer were not referred to a specialist by their GP.
NHS England data from around 4,000 GP practices suggests symptoms were picked up in other ways, for example in accident and emergency departments.
The NHS said not all cancer patients went to their GPs and the figures were not a clear measure of performance.
Patients who do go to their GP with cancer symptoms are seen within two weeks in 95% of cases, the NHS said.
Health Secretary Jeremy Hunt said the government was tackling the "unacceptable variation" across different practices.
National performance data allows patients to look up their GP surgery and see how it performs against dozens of diagnosis and treatment indicators.
NHS England collected the figures on cancer referral rates from GP surgeries across the country as part of a drive to make the health service more transparent.
'Transparency applauded'
The NHS has a target that 95% of patients with suspected cancer should be seen by a specialist within two weeks - a target it says is consistently met.
But in around half of the GP practices sampled, fewer than 50% of patients on their books who were subsequently found to have the disease were referred to a specialist by their doctor.
Sean Duffy from NHS England said: "We know that early diagnosis is the single most important factor in cancer survival, and that's why patients who visit their GP with 'red flag' symptoms like very persistent coughs, blood in urine or faeces or breast lumps should always be referred for further tests on two-week pathways.
"But not all patients visit their GP about these symptoms and others may have cancer without developing specific symptoms.
"These patients will therefore have their cancer diagnosed after going to a hospital as an emergency, or have it spotted incidentally while receiving treatment for another, unrelated issue."
Rigorous inspection regime
Stuart Barber, from Beating Bowel Cancer, said it was "intolerable" that some patients were having to wait.
"GPs have the tools. There are clear symptoms, there is a clear screening programme and if a patient visits their doctor with what are symptoms of bowel cancer they should have the confidence they are going to be referred quickly," he said.
Mr Hunt said: "Every single patient in the NHS has the right to the very best care - and to see a GP who can spot cancer symptoms early enough to make a difference.
"That's why we've introduced a rigorous new inspection regime for GP surgeries."
Under the regime, a new chief inspector would rate each surgery so the government could take action against those "not up to scratch", he said.