Teenage birth rate down 8% in a year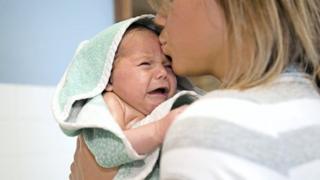 Teenage births in England fell by 8% in a year, latest figures show.
Data from the Health and Social Care Information Centre show there were 30,790 such births in 2012-13, compared with 33,620 the previous year.
The 2012-13 figure was just under 28% down on the 2007-08 figure of 42,670.
The report shows there were 671,260 deliveries in NHS hospitals overall, with Caesarean section rates rising slightly once again to 25.5%.
The highest rate was in mothers aged 40 and over, with 42% having a C-section - while among mothers under 20, only 13.6% had their baby this way.
More babies are born to women in the most deprived areas, the figures show, with a birth rate of 37.2 per 1,000 compared with 18.6 per 1,000 in the least deprived areas.
This pattern was even more striking for teenage pregnancies, with 31.1 per 1,000 teenage girls in the most deprived areas compared with 3.6 per 1,000 teenage girls in the least deprived.
The North East saw the highest rate of teen births, while the lowest was in London.
Teenage mothers are those aged between 13 and 19 when their babies are born.
Childlessness
Natika Halil, of the FPA (Family Planning Association), said: "We welcome a continued decrease in the rate of teenage pregnancies.
She said it was "proof of all the hard work of sexual health and education professionals and the lasting legacy of the decade-long Teenage Pregnancy Strategy."
But she said there was "no room for complacency" and there should be a continued focus on high quality sex and relationships education.
Ms Halil added: "While the figures are promising, we are still not at the levels recorded in comparable western European countries, so we must keep up the momentum."
In other figures published by the Office for National Statistics it was revealed that one in five women in their mid-40s is childless, compared to one in 10 of their mothers' generation.
Some 19% of women born in 1967 did not have children by their 45th birthday, compared with 11% of women born in 1940.