Is your lifespan more than a postcode lottery?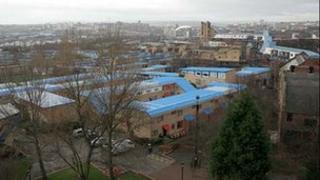 In Newcastle, if you live in a well-off area you are likely to have 11 more healthy years than if you reside in a more deprived part of the city just a few miles away. Experts at Newcastle University are trying to find a way to bridge this gap by 50% in 10 years with no extra money.
The problem is easily stated but hard to tackle. It's a restatement of the familiar postcode lottery - but this time it's the postcode lottery of life.
Take Tyneside as an example.
If you are 55-year-old who steps on to the Metro train at a stop in the prosperous suburbs near Newcastle airport, you will have on average the chance of having a healthy life up to the age of almost 75.
But just eight miles away, in a deprived part of Newcastle, people boarding the Metro at Byker have an average healthy life expectancy of just under 64.
That is a huge longevity gap of 11 years between rich and poor people in just one city. The figures could be replicated in many other places.
It is a terrible indictment of unequal Britain even after decades of the welfare state.
Newcastle University specialises in studying the problems (and big benefits) of growing old.
Increasing longevity is making this a very big issue, thanks to better living and improved medical care.
Every day that goes by life expectancy in Britain goes up by five hours.
Year after year, decade after decade. So says Prof Tom Kirkwood of the Institute for Ageing and Health at Newcastle University.
The trend has defied the experts who expected it to tail off after the advent of the NHS and lower infant mortality decades ago.
But as those Tyneside Metro figures suggest, growing old exposes very worrying imbalances in Britain's health.
To try to address the stark healthy ageing gap between rich Newcastle and poor Newcastle, the institute convened an elaborate two-day brainstorming session.
War games started as ways for the military to fight tabletop battles to think through the implications of how various strategies might work in the field.
Then they were taken on by businesses and other organisations, applying the same principles to things far removed from the battleground.
Six years ago staff at the Institute for Ageing And Health happened to hear a BBC Radio 4 In Business programme reporting on a war game set up by the bio-pharmaceutical industry to tackle the problem of why funding research in Britain was so difficult compared with the US.
The institute spent several years gathering data and recruiting specialists and members of the community willing to devote two days of their time to trying to close that crucial longevity gap with no extra funds available to do the job.
That was the task.
Hopes were high when 50 people turned up to take part in the experiment.
Two competing teams were told to come up with five key suggestions to improve the healthy life imbalance between two fictional but representative Newcastle areas - one rich, one poor.
A jury of experts was there to vet the plausibility of their plans as they put them forward.
And monitoring the "official" proceedings on television screens was another group representing the real world environment in which all this was taking place.
It was soon obvious that both the official teams were dominated by people who thought in policy terms.
There was much talk of "evidence-based interventions" and how to use government and local authority money in more effective ways.
There was restiveness among the community observers. They spurned their monitoring role, they had their own ideas and they wanted to express them.
So they turned away from the TV screens showing the two teams' official deliberations, and began to evolve their own ideas.
It was a dramatic example of how a war game can take on a life of its own, rather confounding the organisers.
At one stage in the game, a team of observers became very keen on finding ways of using family members, such as children, to promote healthier habits among other family members, such as grandparents.
It was a strikingly dynamic idea, which flourished for a few minutes and then seemed to fade away.
Many factors are involved in healthy older living:
food
drink
smoking
exercise
housing
employment
loneliness
Work or the lack of it was obviously identified by many war game participants as an important factor in healthy older living.
But there was a notable dearth of business people on the panels, and a notable lack of commercial thinking in the proposals as they were slowly hammered out by all the policy-dominated teams.
David Newton, managing director of Nova International, was one of the few involved in business at the event.
It's the company behind the Great North Run, now the world's biggest half marathon race, attracting to Newcastle participants from all over Britain.
He told me the main problem was how the barriers between different organisations could be broken down to give shape to a common purpose, such as the Great North Run.
And he agreed with me that reducing the healthy ageing gap called for a personality, a champion.
In the case of the Great North Run, it's the locally born Olympics long-distance runner Brendan Foster.
But given that the problem can be stated so graphically, think what could be done by a charismatic man or woman calling the area to community action over healthy living as he or she poses under an umbrella emblazoned with the Tyneside Metro map, under the slogan: "Let's get moving", or some such.
Don Pinchbeck was another businessman involved in the war game, which he felt was dominated by care professionals. He often felt he was a lone voice in the wilderness; he thought the addition of an all-business team might have sharpened up the proceedings.
A few months after the war game, the Newcastle Initiative for Changing Age embarked on a pilot project concentrating on mental health, which is seen as the biggest contributor to that healthy living gap between prosperous and not so prosperous people, in Tyneside and many other places.
Global demographic trends show that many people in many countries are finding themselves older than they could have dreamed of at the start of their lives, and there's no sign of this longevity trend coming to an end.
We need a lot more thought to be given to keeping people healthy longer, and we need a lot more action.