Why cancer costs as much as a mortgage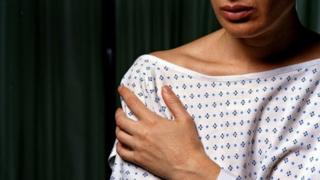 A diagnosis of cancer is, naturally, a harrowing moment. Concern about survival prospects and what the treatment will involve will be the first thoughts of many.
But the financial consequences can be severe too, as this report produced by Demos shows.
Four in five people with cancer report losing out financially.
Take Laura, for example. She is in her 30s and was diagnosed with cancer two years ago.
She had to time time off work and even though she got sick pay she still lost £580 a month in earnings.
It meant she had to rely on her mother to help her pay the rent.
On top of that, she had to spending money on wigs and new clothes as the steroids she was on coupled with her her inability to exercise meant she put on weight.
Her energy bills also went up because she was at home more.
In just over 12 months, she estimates her diagnosis cost her over £11,000.
But this is not an unusual case.
The think-tank calculates the average cost is about £7,000 a year - equivalent to the standard mortgage.
And it is not just in the immediate aftermath of a diagnosis that the costs are accrued.
With more and more people surviving cancer, the financial hit can last for years, the report Paying the Price suggests.
'Terrible strain'
There is some support available. Those on low incomes can get free transport too and from hospital, while prescription charges for cancer patients are waived (elsewhere in the UK they have been abolished for all patients).
Several charities offer grants too.
But Demos doesn't think that goes far enough.
It wants to see those affected by cancer given the same legal right to request flexible working as parents have and the government to offer a financial health check as part of the routine follow-up care.
Jo Salter, who authored the report, says this is the "new reality" with cancer diagnoses on the rise - nearly half of people are now expected to get it in their lifetime.
Ministers say they are considering what support can be given.
For patients, this can't come quickly enough, according to Macmillan Cancer Support.
"People living with cancer should not be left to deal with the terrible financial strain alone," says its chief executive Ciaran Devane.